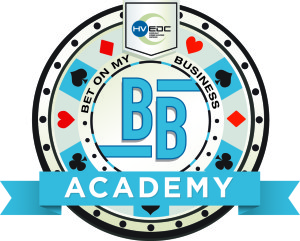 The SUNY New Paltz School of Business hosted the Hudson Valley Economic Development Corporation (HVEDC) for a "Bet on my Business Academy" session, titled "Business Growth and Branding," on April 28.
The session was hosted by Marketing Lecturer Russell J. Zwanka, who serves as a "food and beverage expert" for the Food and Beverage Alliance segment of HVEDC. It was attended by representatives of a number of businesses from across the region, including restaurants, farms, breweries and vineyards.
"To be able to interact with some of the strongest Hudson Valley food and beverage entrepreneurs in a personal setting, and work with their strategic business growth and direction, is an honor," Zwanka said. "It is a testament to the relationships we at the School of Business have built with the HVEDC and the members of the Food and Beverage Alliance."
Bet on My Business Academy is an HVEDC initiative to help local entrepreneurs in the food and beverage industries learn how to meet the needs of larger companies that may wish to do business in the Hudson Valley.
"Our innovative Bet on My Business Academy is helping local business owners address a very real challenge: how to scale up to effectively sell their products to significantly larger clients," said Laurence P. Gottlieb, president and CEO of HVEDC. "The food and beverage industry in the Hudson Valley has seen tremendous growth in recent years, and we are excited to help these companies better understand what it takes to sell to customers that will make consistent purchases at much higher volumes."
More information about the School of Business is available online.