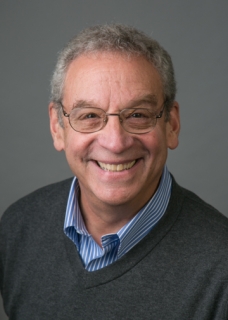 James Halpern, professor of psychology and director of the Institute for Disaster Mental Health (IDMH), has announced his retirement at the close of the spring 2016 semester.
Halpern joined the Psychology Department at SUNY New Paltz in 1973 as an Assistant Professor, teaching Theories of Psychotherapy, Couple and Family Counseling and the Psychology of Social Problems. Throughout his career Dr. Halpern has been committed to teaching and instilling in his students a sense of psychology as an area of scientific study as well as an applied professional practice.
"Many psychology majors were and are interested in learning about counseling and psychotherapy, and I found teaching both undergraduate and graduate courses in those areas to be particularly rewarding," Halpern said. "One of my goals when teaching counseling theories was for students to examine how those ideas applied to them to enhance their wellbeing. Some of my more memorable recent experiences with students were supervising them in New Orleans after Hurricane Katrina, in New York at 9/11 memorials and bringing groups of graduate students to Israel to study crisis counseling alongside Israeli students. Some students reported that these were life changing experiences."
Halpern's legacy of work with students in the classroom and in the field is matched by the impact of the Institute for Disaster Mental Health on the College, the Hudson Valley region and the field of disaster counseling. Halpern has played an instrumental role in the direction of the IDMH since its founding in 2004, and has overseen its growth into a nationally-recognized hub for education and professional development.
"I began doing disaster mental health volunteer work for the American Red Cross in the late 1990s when the field was in its initial stages," Halpern said. "Then-Dean of Liberal Arts & Sciences, Gerry Benjamin, invited me to bring that work into the college, and that invitation and support lead to a minor in disaster studies, a graduate course in Disaster Mental Health and a growing Institute that does projects for state, national and international agencies. The work of our small but dedicated staff and advisory board has resulted in thousands of mental health professionals who are now more capably trained to assist trauma survivors. I am proud that the IDMH has become a center of competence in disaster mental health in New York State."
As Halpern's tenure at New Paltz approaches its conclusion, he remains actively involved in campus affairs. This semester he organized one of the best-attended IDMH Conferences in the program's history, and he will serve as Faculty Grand Marshal at the upcoming Undergraduate and Graduate Commencement Ceremonies.
In retirement, Halpern intends to continue to contribute to the discipline around which he has built his career. He has offered to be available to serve in an advisory role to the next IDMH director, and is coauthoring a book on disaster mental health interventions with IDMH Deputy Director Karla Vermeulen.