The Institute for Disaster Mental Health (IDMH) at SUNY New Paltz held a conference devoted to "Effective Psychosocial Response to Mass Transportation Disasters," co-sponsored by the New York State Division of Homeland Security and Emergency Services, on April 15.
The IDMH's 13th annual conference attracted hundreds of scholars and care providers from around the state, including many New Paltz alumni, who "assist people at what can be the most important and vulnerable times of their lives," said IDMH Director James Halpern.
The Conference is the flagship event for the IDMH, which since its founding in 2004 has served as a unique resource, both on campus and in the broader health care community, preparing professionals across a range of fields to care for victims in the wake of traumatic events.
"The Institute is one of the College's gems," said President Donald P. Christian. "We're very proud of its mission, which I often describe as 'translational scholarship:' taking the best of what's known in the field, and translating that into evidence-based practice. The Institute focuses on bridging the gap between academics and practice by providing students, community members, first responders and other helping practitioners with tools for the care of others following disasters."
The day's program focused on disasters involving public transportation, and included presentations from expert guests including Max Green, the coordinator of emergency operations at the National Transportation Safety Board, and Laurie Ann Pearlman, author of Treating Traumatic Bereavement: A Practitioner's Guide.
Additional workshops and panel discussions featured representatives of organizations and agencies including the American Red Cross, the New York State Office of Victim Services, Jet Blue Airlines and the New York State Office of Mental Health.
Conference attendees also received the bittersweet news that IDMH Director and longtime SUNY New Paltz faculty member James Halpern will retire at the end of the academic year.
"James's teaching, scholarship and community service have made him an exceptional member of our faculty, and the Institute could not have become such a prominent part of the College's fabric without his leadership and passion for this very important work," said President Christian. "We thank him for his exemplary service and wish him well in the years ahead."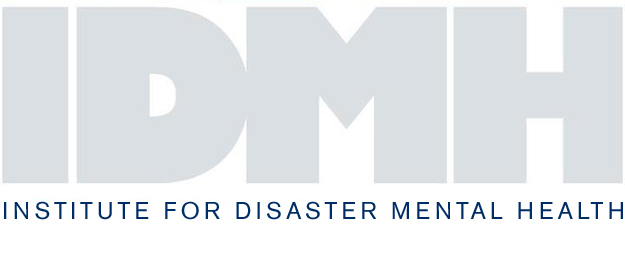 About the Institute of Disaster Mental Health
IDMH is a national leader in offering education and training in disaster mental health for students, professionals and paraprofessionals. The Institute comprises scholars and practitioners dedicated to teaching, research and service to the community in the area of disaster mental health.
IDMH provides students and community members with opportunities for education and professional development, including through the new Advanced Certificate in Trauma and Disaster Mental Health, and an undergraduate interdisciplinary minor in Disaster Studies.