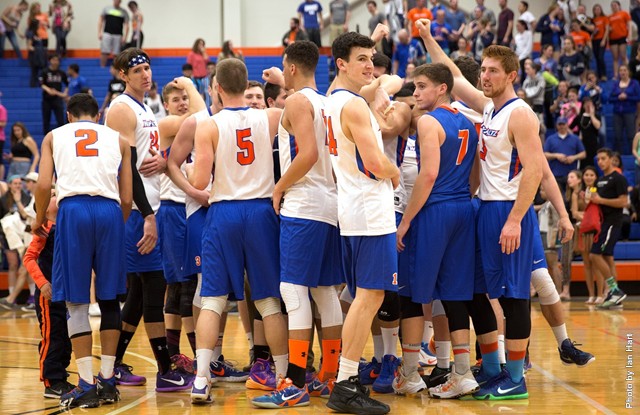 The New Paltz Hawks are the number one team in NCAA Division III Men's Volleyball, according to the week eight edition of the American Volleyball Coaches Association rankings. New Paltz has yet to lose to an NCAA Division III team this season.
It marks the second time in program history that the Hawks have achieved a No. 1 national ranking. The squad held the top spot during the fourth, fifth and sixth weeks of the AVCA's national top-15 poll in 2014.
The Hawks went 2-0 on the week, defeating then-No. 1 Springfield in straight sets on March 9 in a non-conference tilt before sweeping United Volleyball Conference (UVC) opponent Massachusetts Institute of Technology, 3-0, on March 12.
Five other UVC schools join New Paltz in the top 15: the No. 4 Stevens Institute of Technology, No. 8 Nazareth College, No. 9 Elmira College, No. 10 Vassar College and No. 13 New York University.
New Paltz (21-1, 6-0 UVC), which is riding a 19-match winning streak, next plays in Nazareth's Purple and Gold Invitational on Saturday, March 19. The Hawks will face California Lutheran University at 11 a.m. before taking on the host Golden Flyers at 1 p.m.
More information about New Paltz Athletics is available online.