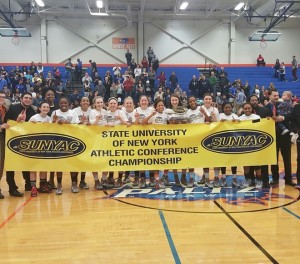 SUNY New Paltz captured its second-ever State University of New York Athletic Conference (SUNYAC) title and an automatic bid into the NCAA Division III Women's Basketball Tournament defeating Geneseo, 65-52, on Feb. 27 at home.
Senior guard Goldie Harrison (Elmont, N.Y./Elmont Memorial) received the tournament's Most Valuable Player honors after netting 18 points in the championship game. Earning spots on the All-Tournament team were junior guard/forward Kit Small (Slingerlands, N.Y./Academy of the Holy Names) and junior forward Courtney Irby(Farmingdale, N.Y./Farmingdale). Rounding out the All-Tournament team were senior forward Allison McKenna and junior forward Katie Vienneau from Geneseo.
Despite Geneseo grabbing the first couple of points to start off the game, the Hawks quickly jumped ahead, 5-2, as a jumper by Harrison and a 3-pointer by sophomore guard Jasmine Bryant (Elmont, N.Y./St. Mary's College Prep) at the 8:02 mark. The Knights did not go away as a pair of free throws from junior guard Kayleigh Cavanaugh and a three from junior guard Bridgit Ryan handed Geneseo a brief 9-8 lead. But the Hawks surged ahead on a 5-3 run to hold a14-12 edge heading into the second quarter.
The Knights would find limited scoring opportunities against a strong New Paltz defense in the second period as the Hawks pushed a 12-4 run to capture a 28-20 advantage at the intermission.
The Hawks grabbed their largest lead of the night, 43-26, on a Harrison free throw at the 2:53 mark in the third quarter. Geneseo cut the Hawks' advantage to 43-32 as the Knights capitalized on back-to-back free throw shots by Vienneau, but Small put away a layup to hand New Paltz a 45-32 edge in the final stretch.
Harrison converted 11-of-13 shots from the line in the fourth quarter to push the Hawks to a 64-51 lead with under a minute remaining. Although the Knights attempted a final layup, they could not connect on the basket as sophomore guard Sydney Pinn (New Rochelle, N.Y./New Rochelle) grabbed the rebound and held onto the ball until the clock expired, securing the victory for New Paltz.
New Paltz concluded the game with a 35.1 field goal percentage (20-of-57) and scored 24 points off turnovers. Geneseo held a 46-35 edge in boards and shot 31.5 percent from the floor (17-of-54) while scoring 28 bench points.
New Paltz will play in the first round of the NCAA Division III Tournament this Friday at 7 p.m. at Rowan University.
2016 All-Tournament Team
Goldie Harrison, New Paltz
Courtney Irby, New Paltz
Kit Small, New Paltz
Allison McKenna, Geneseo
Katie Vienneau, Geneseo