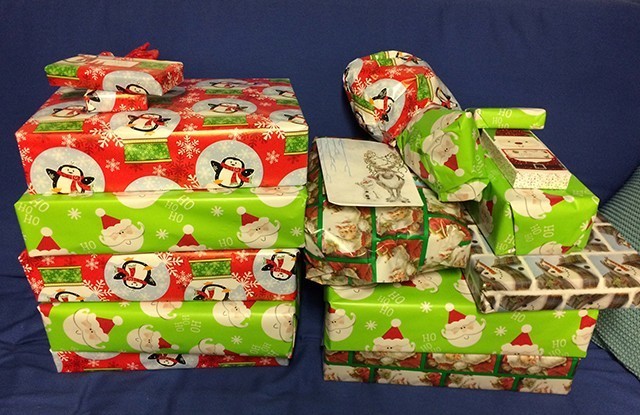 For the holiday season this year, SUNY New Paltz student-athletes, coaches, staff and administrators helped out disadvantaged families through the "adopt a family for the holidays" program sponsored by Abilities First Inc.
In total, New Paltz Athletics helped out three different families, with one team and four staff members assigned to each family. The groups purchased and wrapped the gifts, and on Thursday, Dec. 17, the department delivered the gifts for all three families to Abilities First in Poughkeepsie, N.Y.
Abilities First is a non-profit with a mission to provide support to people with disabilities and their families, in order to aid them in attaining independence, self-determination, integration and acceptance by others through education, exploration and experience.
"The athletic teams at SUNY New Paltz coming together to adopt not one, but three families for the holidays is a wonderful act of generosity," said Molly (Soule) Lavanco '04 (Communication Studies), assistant director of day habilitation services at Abilities First. "It is a testament to the type of student-athletes that SUNY New Paltz fosters. We thank you!"
"I am elated that our teams, coaches and staff members all came together to adopt families from Abilities First to make each of their Christmases a little brighter this holiday season," said assistant to the director of Athletics, Wellness & Recreation Danielle Lindner '05 (History), who helped coordinate the endeavor in tandem with Abilities First. "Everyone that participated was beyond generous. I was so excited to see the amount of presents piling up in my office over the past week! It makes me feel so proud and lucky to be a part of the SUNY New Paltz community because I get to work with these caring people on a daily basis. I hope this is something we can continue to do together as a department, and that this was just as memorable an experience for everyone else as it was for me. It's a great feeling to be able to make a difference in the lives of those who need it most this time of year."