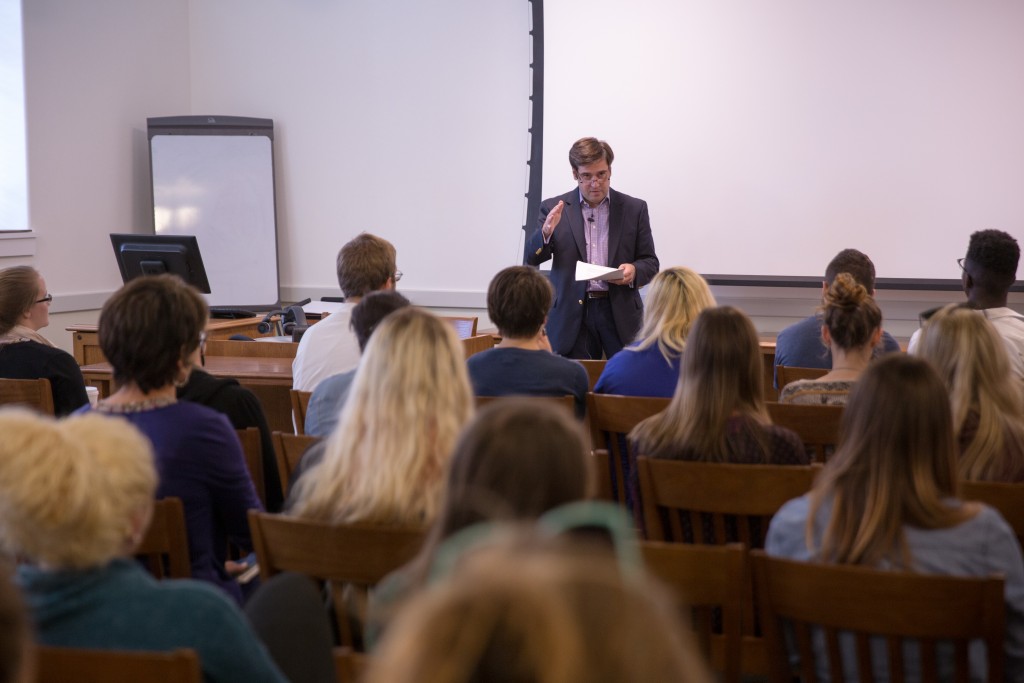 Rob Cox, the editor of breakingviews.com (the financial commentary division of Reuters) spoke with two groups of students and faculty on the SUNY New Paltz campus this month.
Cox is also a resident and native of Newtown, Conn., and is one of the founders of Sandy Hook Promise, a national nonprofit organization led by several family members of victims of the Sandy Hook Elementary School tragedy of December 2012. He spoke to students of psychology and disaster mental health about his experiences working with this group to address the root causes of gun violence, and read from "When Your Town is Newtown," an essay Cox wrote for The Wall Street Journal in the days following the shooting.
"For now the priority is to support those most directly affected," Cox said. "What we know is that, from now on, when my children tell people they hail from Newtown, there will be immediate recognition, perhaps even a stigma.
"In the end, we may arrive at answers that help make it less likely that tragedies like Newtown's will recur. That won't ever heal the suffering of the victims' families. Nor will it salve the collective grief that I know my neighbors, my children, my wife and I are grappling with. Dealing with that will require us to recognize Adam Lanza as one of us, and explore what that means for each of us in Newtown. It will be painful. At least we can be confident our community will pull together."
Cox also sat for a Q & A with journalism students and faculty moderated by Assistant Professor Lisa Phillips, at which he spoke about his career and shared his insights about the virtues and the challenges of working as a reporter.
"Being a journalist is just such a great job," Cox said. "You're an important institution – important to democracy, important to markets and economies, but you're not part of the team. You're on the side making sure people are well-behaved. Just telling the story can change the course of events."
Cox's visit to campus was sponsored by the James H. Ottaway Sr. Endowed Professorship and the Department of Digital Media and Journalism.