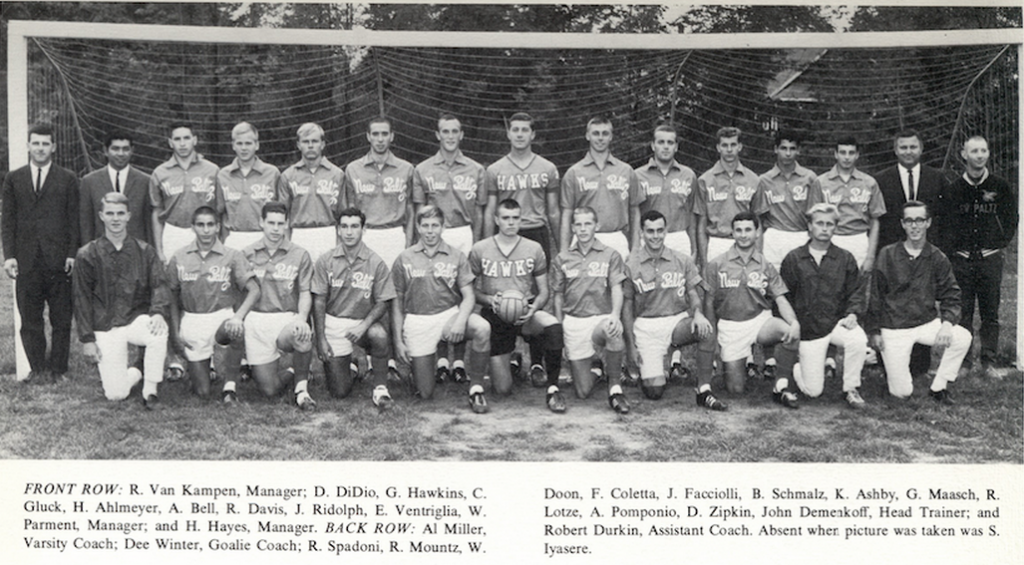 SUNY New Paltz will be the site of a major community event honoring the nation's veterans and celebrating the College's 1965 championship men's soccer team on Saturday, Oct. 10.
The Heinz Ahlmeyer men's soccer game, named in honor of a 1966 New Paltz alumnus who was killed in action in the Vietnam War, will include a helicopter flyover and landing and a static display of military and law enforcement vehicles from military, police, fire and rescue units throughout Ulster County.
Through a special collaboration between the College's Department of Athletics, Wellness and Recreation and the Office of Veteran & Military Services, all ticket sale proceeds will be donated to the Wounded Warrior Project (WWP), which provides support services to meet the needs of injured service members and their families.
The fundraiser coincides with the 50th anniversary celebration of the 1965 SUNY New Paltz Men's Soccer Team, which won the NCAA Atlantic Coast Regional Championship and included Ahlmeyer '66 among its members. That team will be recognized during a halftime ceremony of the 1 p.m. game against SUNY Potsdam.
"The plans for the entire weekend mean a great deal to these alumni who are thrilled that their Alma Mater has not forgotten them or their teammate, 2nd Lt. Heinz Ahlmeyer Jr.," said Director of Athletics, Wellness & Recreation Stuart Robinson.
The event begins at 11 a.m. on the Alumni Soccer Fields with a Barbeque lunch, with food for sale from Sodexo and music by DJ Jay-Smooth.
Right before game-time, Jeff Lyons of Air One Mobility in Saugerties, N.Y., will pass over the field flying a 1962 Bell UH-1B Huey helicopter. Immediately thereafter, SUNY New Paltz students who were awarded Purple Hearts for their service will be recognized on the field. Student Jillian Gawricki '15 (Music) will perform the national anthem.
The static display of military and law enforcement vehicles, including patrol cars, HMMVs, ATVs, an ambulance and a fire truck, will be on the lawn and open to the public from 11 a.m. – 3 p.m. A K-9 unit demonstration will take place at the half.
Tickets are $5 for adults, $3 for kids over 12, and kids under 12 get in free. All proceeds will go to the Wounded Warrior Project for this WWP Approved Event.
Those interested in making an additional contribution to the fundraiser can donate by following this link: www.nphawks.com/wwp.
This event was made possible thanks to the generous support of the following agencies: U.S. Army Recruiters; U.S. Air Force Recruiters; New Paltz VFW; New Paltz Rescue Squad; New Paltz Fire Department; New Paltz Police Department; University Police Department at SUNY New Paltz; Town of Rosendale Police Department; Town of Lloyd Police Department; Town of Marlborough Police Department; City of Poughkeepsie Police Department; Ulster County Sheriff's Office; New York State Police (Highland Station); New York State Department of Environmental Conservation Police.
The SUNY New Paltz Department of Residence Life is contributing additional support by encouraging staff members who will be on campus to attend the game and volunteer their time.