SUNY New Paltz President Donald P. Christian is pleased to announce the renaming of the Center for Research, Regional Engagement and Outreach (CRREO) to The Benjamin Center for Public Policy Initiatives at SUNY New Paltz, in honor of Dr. Gerald Benjamin, current director and associate vice president for regional engagement at the College.
[Read AP story "SUNY New Paltz naming research center for Gerald Benjamin" here]
"Dr. Gerald Benjamin is the foremost scholar and expert on local and state government in New York and is held in high esteem by his faculty and administrative colleagues, state and local government officials, other scholars, and thousands of students who have taken his courses. He has contributed greatly to the campus community, the region and the state during his nearly 50-year career at SUNY New Paltz," said Christian.
"In recognition of his numerous accomplishments and in anticipation of the work that lies ahead for the Center, we are proud to rename CRREO in his honor. The Benjamin Center for Public Policy Initiatives at SUNY New Paltz is committed to developing and implementing new models and approaches to governance through thoughtful, non-partisan research. The Center is the leading independent university-based public-policy research center in the Hudson Valley; it embodies the College's commitment to serve the region while creating research and applied-learning opportunities for our students. We look forward to the Center's continued great work under Dr. Benjamin's exceptional leadership."
The renaming will be celebrated with a formal program and reception held on campus on Sept. 30. Speakers will include SUNY New Paltz President Donald P. Christian, SUNY Chancellor Nancy L. Zimpher, Assemblymember Kevin Cahill (D-Kingston) '77 (Political Science), Hudson River Estuary Coordinator for the NYS Department of Environmental Conservation Francis F. Dunwell and Cetrino Family Scholarship recipient William Raphaelson. Due to the large number of off-campus attendees expected, space is constrained and the event is invitation-only. For that reason, a public reception following the event at the Student Union Building Multipurpose room has been planned to take place from 5 – 7 p.m. so that campus colleagues may join in this celebration.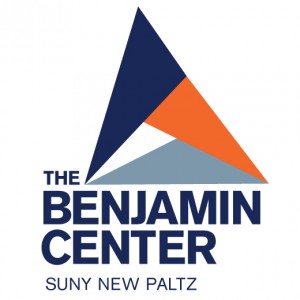 Originally founded in 2007 by Benjamin and then-President Steven Poskanzer, CRREO has conducted and published impactful applied research, and assisted with the use of research findings to foster discussion of important issues and create well-informed paths to improve government and governance for counties, cities, towns, villages, school districts, and other organizations throughout the region. The Benjamin Center will continue to work with and for these and other entities, in such areas as charter revision, community benchmarking, community convening, data collection & analysis, education policy, economic impact studies, mapping & GIS, research, evaluation & survey design, property tax studies, redistricting and shared services & efficiency studies.
"It is an extraordinary honor for me to be recognized in this way at the college that I love, and have had the great good fortune to serve for almost 50 years," Benjamin said. "I look forward to continuing to contribute, with my colleagues at the Center, to creating and sustaining excellence at New Paltz for our students, our region and the State of New York."
Benjamin, who joined the New Paltz faculty as an Assistant Professor of Political Science in 1968, achieved the University's highest rank in 2002 when he was appointed Distinguished Professor by the SUNY Board of Trustees. During his tenure, he has served as Chair of the Department of Political Science, Presiding Officer of the Faculty and Dean of the College of Liberal Arts and Sciences (1996-2008).
Gerald Benjamin has taught a great range of American government courses while on the New Paltz faculty. His current offerings include courses on local government and state government. Formerly Director of the Center for the New York State and Local Government Studies at SUNY's Rockefeller Institute of Government in Albany (1993-1995), while there Benjamin served as Research Director of the Temporary State Commission on Constitutional Revision appointed by Governor Mario Cuomo. Earlier, he was Principal Research Advisor to a New York City Charter Revision Commission that achieved the most extensive structural changes in that city's government in recent history. From 2004-2006, by unanimous bipartisan action of the Ulster County Legislature, Benjamin was appointed to chair the Ulster County Charter Commission. The work of this commission resulted in approval at the polls of the county's first charter. In 2007, Benjamin was appointed by then Governor Eliot Spitzer to the State Commission on Local Government Efficiency and Competitiveness that in 2008 proposed wide-reaching reforms in local government in New York State.
From 1981- 1993 Benjamin served as an elected member of the Ulster County Legislature. He served in legislative leadership as both Majority Leader (1985-1991) and Chairman (1991-1993). During this time, Ulster County had no elected executive; the legislative chairman was therefore the County's Chief Elected Officer.
For more information about The Benjamin Center at SUNY New Paltz visit www.newpaltz.edu/benjamincenter.