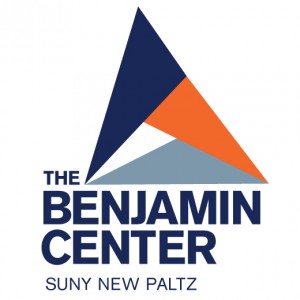 The renaming of the Center for Research, Regional Engagement and Outreach (CRREO) to The Benjamin Center for Public Policy Initiatives at SUNY New Paltz honored Dr. Gerald Benjamin, current director and associate vice president for regional engagement at the College.
"A major contribution that Professor Benjamin has made are the thousands of students that he has trained to work in state and local governments in this state and across the country," said Thomas Cetrino '73 (Political Science). "Many of them have been in very important policy making positions and have helped both of those governments work better."
A formal program and reception attended by about 200 people took place on Sept. 30 where speakers included SUNY New Paltz President Donald P. Christian, SUNY Chancellor Nancy L. Zimpher, alumnus and Assemblymember Kevin Cahill (D-Kingston) '77 (Political Science), Frances F. Dunwell, Hudson River Estuary coordinator at New York State Department of Environmental Conservation, and Will Raphaelson, Cetrino Scholar '13 and graduate student in public policy at Brown University. Senior Research Associate Josh Simons '08 (Political Science) and Associate Director Kathleen Tobin '92 (Sociology), who both work at the Center, also attended the event.
"I feel fortunate to have learned so much from the foremost authority on New York State government, Gerald Benjamin," Cahill said. "The lifelong course I've taken with Jerry has been the most important part of my continuing education. He is the go-to person who we all pay attention to. We are very lucky to have a person like Jerry Benjamin among us, and the future is very lucky to have a Center named for him, so that his inspiration can continue for generations to come."
Originally founded in 2008 by Benjamin and then President Steven Poskanzer, CRREO has conducted and published impactful applied research and assisted with the use of research findings to foster discussion of important issues and create well-informed paths to improve government and governance for counties, cities, towns, villages, school districts, and other organizations throughout the region. The Benjamin Center will continue to work with and for these and other entities, in such areas as charter revision, community benchmarking, community convening, data collection & analysis, education policy, economic impact studies, mapping & GIS, research, evaluation & survey design, property tax studies, redistricting and shared services & efficiency studies.
"It is an extraordinary honor for me to be recognized in this way at the college that I love, and have had the great good fortune to serve for almost 50 years," Benjamin said. "I look forward to continuing to contribute, with my colleagues at the Center, to creating and sustaining excellence at New Paltz for our students, our region and the State of New York."
For more information about The Benjamin Center at SUNY New Paltz visit