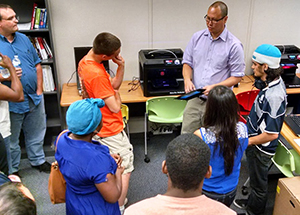 One of the goals of the SUNY New Paltz Digital Design and Fabrication initiative is to bring this emerging technology into nearby community colleges, and this month, the College extended two new MakerBot 5th Generation 3D printers to students, faculty and staff at SUNY Sullivan.
Aaron Nelson, director of the Makerbot Innovation Center (MIC) at New Paltz, installed the printers at a Sullivan facility and provided two hands-on workshops on 3D design to about 30 participants. Nelson shared examples of the various applications fabricated by New Paltz, from architectural models to toys with moving parts.
"We're really excited to be working with Sullivan on 3D printing," said Dan Freedman, dean of the School of Science & Engineering and director of The Hudson Valley Advanced Manufacturing Center at SUNY New Paltz. "There's a lot of excitement and interest with the staff, faculty and students and we look forward to sharing ideas about how to integrate 3D printing into different educational areas."
As a partner of The Hudson Valley Advanced Manufacturing Center at SUNY New Paltz, SUNY Sullivan plays a part in bringing to the region new manufacturing technology and training that will help grow the economy and create jobs.
"Digital Design and Fabrication is applicable to many college degree programs at SUNY Sullivan," said Rich McElrath, Sullivan's instructional technologist. "3D printing is an emerging technology already being used in many fields, and employers are asking for our students to have this skill set when they graduate. I very much appreciate New Paltz and their team for giving us this opportunity at SUNY Sullivan. There is so much buzz on campus about the printers, and I am forecasting great and innovative future side projects coming from our staff inside and outside of the classroom."
The 3D printing center at SUNY Sullivan will be open to those who attended the training and received certification. The program has experienced high demand since being initially made available to members of the Sullivan community, and plans are in place to announce additional training sessions soon.
More information about 3D printing at SUNY Sullivan is available online.
A version of this story originally appeared at http://sunysullivan.edu/news/2015/20150625_3DPrinting.php