Two events this month highlighted SUNY New Paltz's relationships with Turkish students and universities, and its commitment to cultural and intellectual diversity on campus.
The College hosted its fourth annual Turkish Culture Night, a celebration of Turkish culture and cuisine cosponsored by the Dual Diploma program and the Turkish Cultural Center (TCC) Albany affiliate, on April 30. The event offers Turkish students a feeling of familiarity, but also is designed to expose their American peers and colleagues to the music, language, food and customs of their home nation.
"SUNY New Paltz has a long and proud history of celebrating cultural diversity and international education, including the contributions that international students make to a rich learning environment here on campus," said President Donald P. Christian. "It's in that spirit that we're delighted to host this evening's event, which highlights how much we value the opportunity to learn about other cultures, other countries, and other parts of the world, and to create opportunities for others to learn here as well."
Also this month, an alumni event for graduates of the YÖK-SUNY Dual Diploma program was held at the residence of John Bass, United States Ambassador to Turkey, in the Turkish capital city of Ankara.
"The Turkish participants in this program graduated not only with dual degrees and excellent academic credentials, but also with a deep understanding of the United States and Americans," Bass said. "The many American students, professors, and New York residents who interacted with them at SUNY have also come away from that experience with a deeper understanding of Turkey and its people."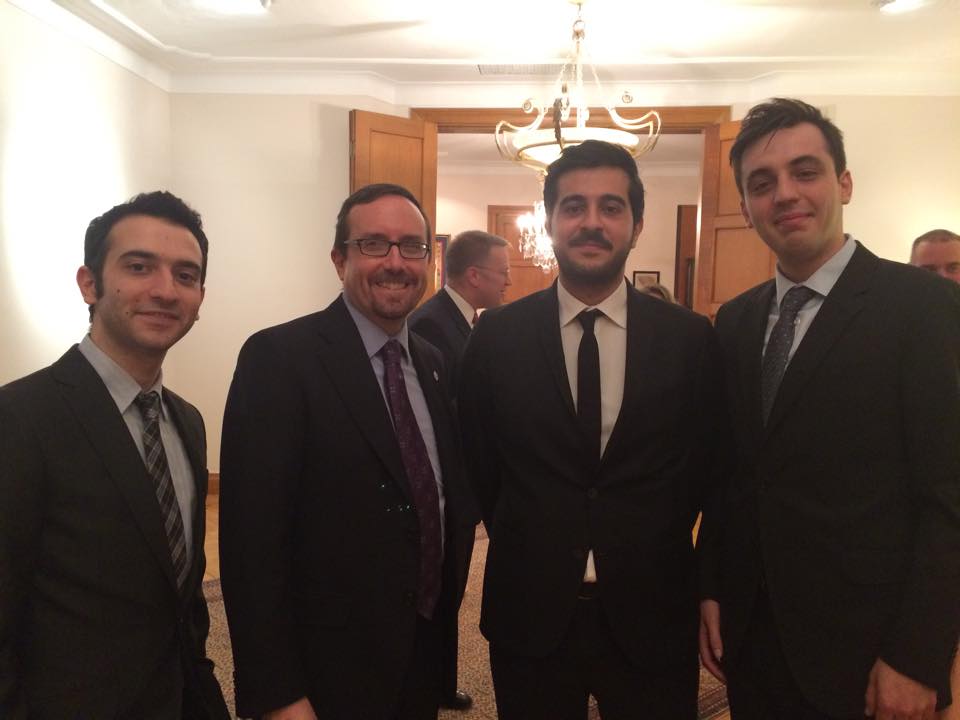 The event was attended by Sally Crimmins Villela, SUNY's assistant vice chancellor for global affairs, Kathleen Bauman Geher, director of the Dual Diploma program at New Paltz, and 12 New Paltz alumni, among other guests.
"The Ambassador's alumni reception was a wonderful opportunity to re-connect with this group of exceptional students," Crimmins Villela said. "It was inspiring to hear from them how the Dual Diploma program has given them the confidence needed to pursue many different entrepreneurial opportunities, as well as making them uniquely well-prepared for today's cross-border job market."
The Dual Diploma program is the result of a unique agreement between the Turkish Higher Education Council (YÖK) and the State University of New York (SUNY), which allows students to earn two diplomas by attending classes at one of several prestigious partner universities in Turkey and also at one of 11 participating SUNY campuses.
"The best thing these students get from this program is the international educational experience – the travel, the language immersion, the exposure to American culture and the ability to adapt to different environments," Geher said. "They return home to Turkey with a skillset that really does set them apart as they seek competitive jobs with multinational companies."
New Paltz has one of the highest rates of enrollment in the Dual Diploma program across the SUNY system, hosting approximately 100-200 students from Turkish universities annually. The College offers Dual Diploma programs of study in business, economics and teaching English to speakers of other languages (TESOL).
More information about the YÖK-SUNY Dual Diploma program and about the Turkish Cultural Center is available online.