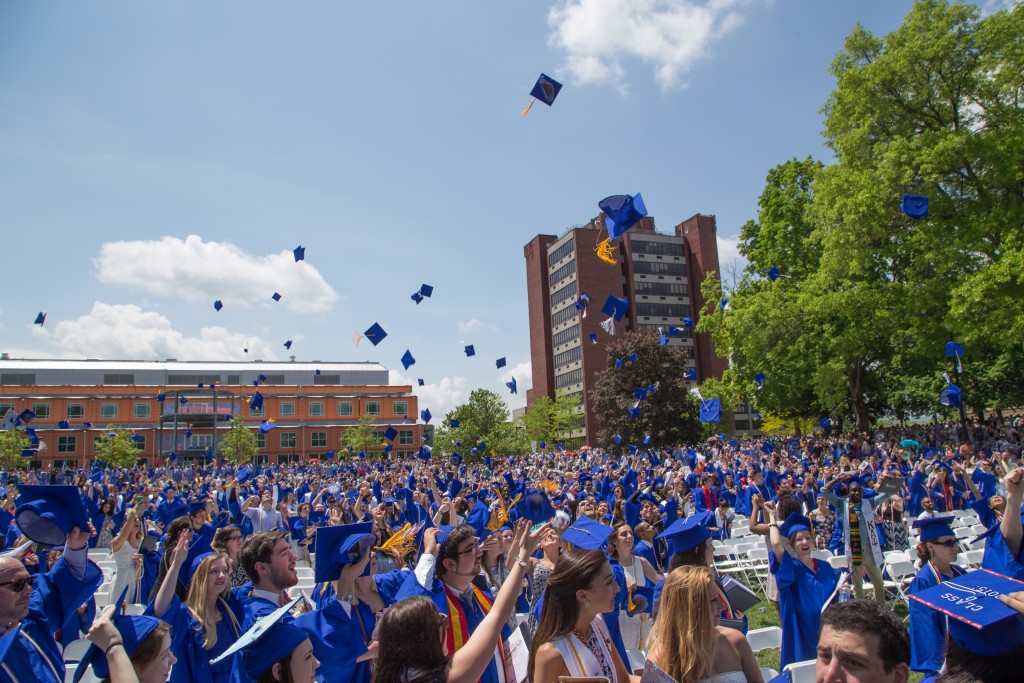 Undergraduates representing the classes of August 2014, December 2014, May 2015 and August 2015 stood before their families, friends and the faculty and staff of the College and received their undergraduate degrees in the Old Main Quad at the SUNY New Paltz campus on May 17.
[Click here to view full gallery and download photos]
The ceremony honored the hard study, extracurricular engagement, friendships made and good times shared over the years, and looked ahead to bright futures for the newest New Paltz alumni.
Undergraduate degrees in science, the arts, business, humanities and education were conferred as part of a tradition presided over by academic deans, faculty and College administrators.
"Commencement ceremonies at their core are about recognition," said College President Donald P. Christian in his opening remarks. "First and foremost, we recognize the achievement of students who have completed the hard academic work of earning a degree. We also recognize faculty for sharing knowledge and their understanding of intellectual frontiers with students with such dedication, and for their contributions in pushing back the boundaries of knowledge and human understanding."
"Underlying these formal moments of recognition is a deeper realization that today's graduates will in a few moments no longer be our students," Christian continued. "Instead, equipped with the intellectual tools, habits of mind and inquisitive spirit they've developed at New Paltz, they are embarking on the next stage of their life's voyage. Wherever you go and whatever you do from this time forward, you will always be part of New Paltz and New Paltz will always be part of you. You are forever linked to this place. As you go forth to take up the responsibilities of graduate or professional school, employment, family and community, your college takes great pride in what you have accomplished so far and eagerly anticipates in what you will achieve."
The 2015 Commencement Speaker was Bre Pettis, creator of Bold Machines and co-founder of Makerbot, an industry leader in the cutting-edge technology of 3D printing and design. Pettis was awarded an honorary doctorate of humane letters (L.H.D.) during the ceremony.
"You are entering the world at a time when the limits on your opportunities are the limits of your ability to plumb the depths of your soul and explore your passions," Pettis said. "The time is ripe for you to take advantage of these opportunities, no matter what career path you pursue or the many diverse positions you may hold in the future. I encourage you to challenge yourself and to always be searching for how you can improve and challenge those around you. I can't wait to see what happens as you unleash your power into the world."
The Keynote remarks were followed by the valedictory, presented by Class of 2015 valedictorian Marisa Gargaro '15 (Communication Disorders).
"There are times when I can't help but wish for another year here," Gargaro said in her address to her fellow graduates. "Look around you, look around this campus – it is beautiful. Even more special are the people in this place, who have made each of our experiences unique, memorable and worthwhile. Wherever we go from here, I know that with the experiences and education obtained from SUNY New Paltz, we all have the potential to let this be the continuation of the best years of our lives."
The time then came for the formal conferral of degrees to each of the 1,500 graduates who participated in the Commencement ceremony. Many took time on this momentous occasion to reflect on what the years at New Paltz have come to mean to them.
"Coming here was one of the best decisions I've ever made. I transferred from a small community college in the area, and when I came here it instantly felt like home." – Courtney Gerou '15 (Theatre Arts – Performance)
"This is such a beautiful area – a great place to just be with yourself and grow. I loved the English major because the professors in the department all have different areas of expertise, so you get a really well-rounded education." – Tabitha Garnica '15 (English)
"I love the area surrounding New Paltz, so the geology program was a good fit. It allows you to be outside a lot, doing field work and getting hands-on experience." – Mike Davis '15 (Geology)
"My study abroad experience was one of the most worthwhile experiences of my life. I'd definitely recommend study abroad to just about anybody. It's a great opportunity to learn in a way that's more globally inclined." – William Wakeman '15 (French)
"Thanks to the internship catalogue I was able to get an internship, and I'm talking with that company about future employment." – Maya Bolden '15 (Digital Media Production)
"I was able to relate the experience I gained in the classroom to my current job, where I got a promotion. I've recommended this program to friends who want to take business courses." – Jennifer Bowling '15 (General Business)
"The best thing about my time at New Paltz was meeting all of the great people whose friendship helped me get through. I transferred from a community college, and the biggest difference here is the atmosphere. The community is just so much more close-knit." – Rebecca Nani '15 (Adolescence Education – Social Studies)
Complete coverage of SUNY New Paltz Commencement activities is available at http://www.newpaltz.edu/commencement/.