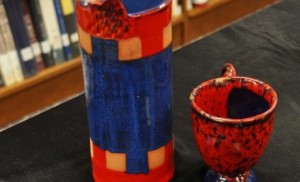 SUNY New Paltz faculty will be on hand to judge the competition at MUDD 2015, the third annual All Ceramics Invitational Exhibition on Tuesday, Jan. 13.
The event, to be held at 6:30 p.m. in the media center of Montville Township High School, will showcase more than 30 ceramic pieces from area students who will compete for prizes in a variety of categories including "Hand Built Functional," "Hand Built Sculptural" and "Best of Show." Additional awards will highlight specific techniques or types of sculpture.
Last year more than $89,000 worth of scholarships were awarded to the top artists competing in the event.
In addition to the competition, student artists are encouraged to bring portfolios and meet with university representatives from New Paltz, Rhode Island School of Design, Moore College of Art,William Paterson University and Peter's Valley Craft Center.
Admission is free and open to the public.