The School of Education recently recognized five recipients of this year's Dean's Award for Excellence in Teaching.
Since 1984, the School of Education has collaborated with school districts to honor teachers in the Mid-Hudson Valley who have attained exceptional standards in their professional careers. The Dean's Award for Excellence in Teaching honors excellence, innovation, service, professionalism, commitment, and enthusiasm. It acknowledges the integral role that teachers play in our community where they foster the ideals of learning, inquiry, and the primacy of education as a foundation for intellectual, social, and economic well-being. The School of Education honors exceptional teachers throughout the Mid-Hudson Valley as part of its objective to recognize and foster excellence, not only among its own alumni, but among the broader community of teachers in the Mid-Hudson Valley.
Teachers who receive this annual award are recommended by area school administrators and selected by a committee of education faculty and professionals. Nominations are supported by colleagues, students, and parents with letters and student work. Criteria for this award require teachers to have made a significant impact on students' lives, on their learning outcomes and growth, and to the school environment. The nominees are highly regarded by their supervisors, colleagues, parents, and their students.
This year's recipients are:
Martha Bilsback
Wappingers Central School District
Bilsback has taught for 25 years at Myers Corners Elementary School, where she currently teaches third grade. Her colleagues say her "professionalism is expressed not only in her classroom as she works with her third-graders, but in her contributions to the professional development of other teachers and the initiation of significant programs within the district."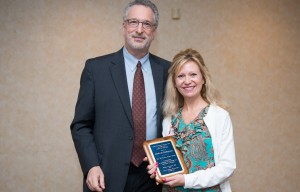 Kimberly Burlingame
Spackenkill Union Free School District
Burlingame has been teaching for 25 years and is currently teaching fourth grade at Hagan Elementary School. Her colleagues cite her as having an "absolute dedication to all her students." Her classes are "what we all want to achieve: beautifully structured, differentiated, efficient, well-organized, relaxed yet appropriately serious…"
Kayla Houlihan
Washingtonville Central School District
Houlihan  earned both her bachelor's and master's degrees at SUNY New Paltz in communication disorders. For the past three years, she has served as a speech pathologist at Washingtonville High School and Washingtonville Middle School. Her colleagues cite her "positive energy and skill-set in therapy and diagnostics as assets in creating lesson plans that inspire creativity and challenge her students to exceed their own expectations."
Taso Pantileris
Roscoe Central School
A SUNY New Paltz alum of the adolescence education science master's program, Taso has been teaching for the past five years. His colleagues praise his sense of humor and his infectious enthusiasm for teaching and learning. "He exemplifies differentiated learning with a variety of labs, notes, spreadsheets, songs, art, and story system narratives to bring STEM topics to life for his students, whether it's dressing up as a mad scientist for his middle school classes or setting up a crime scene for forensics."
Devin Stone
Pearl River School District
Stone began teaching in 2001. Her colleagues say, "Her work ethic makes her an enthusiastic learner as well as being an excellent teacher. Not only has Devin exceeded district expectations, she has contributed to its continued excellence."