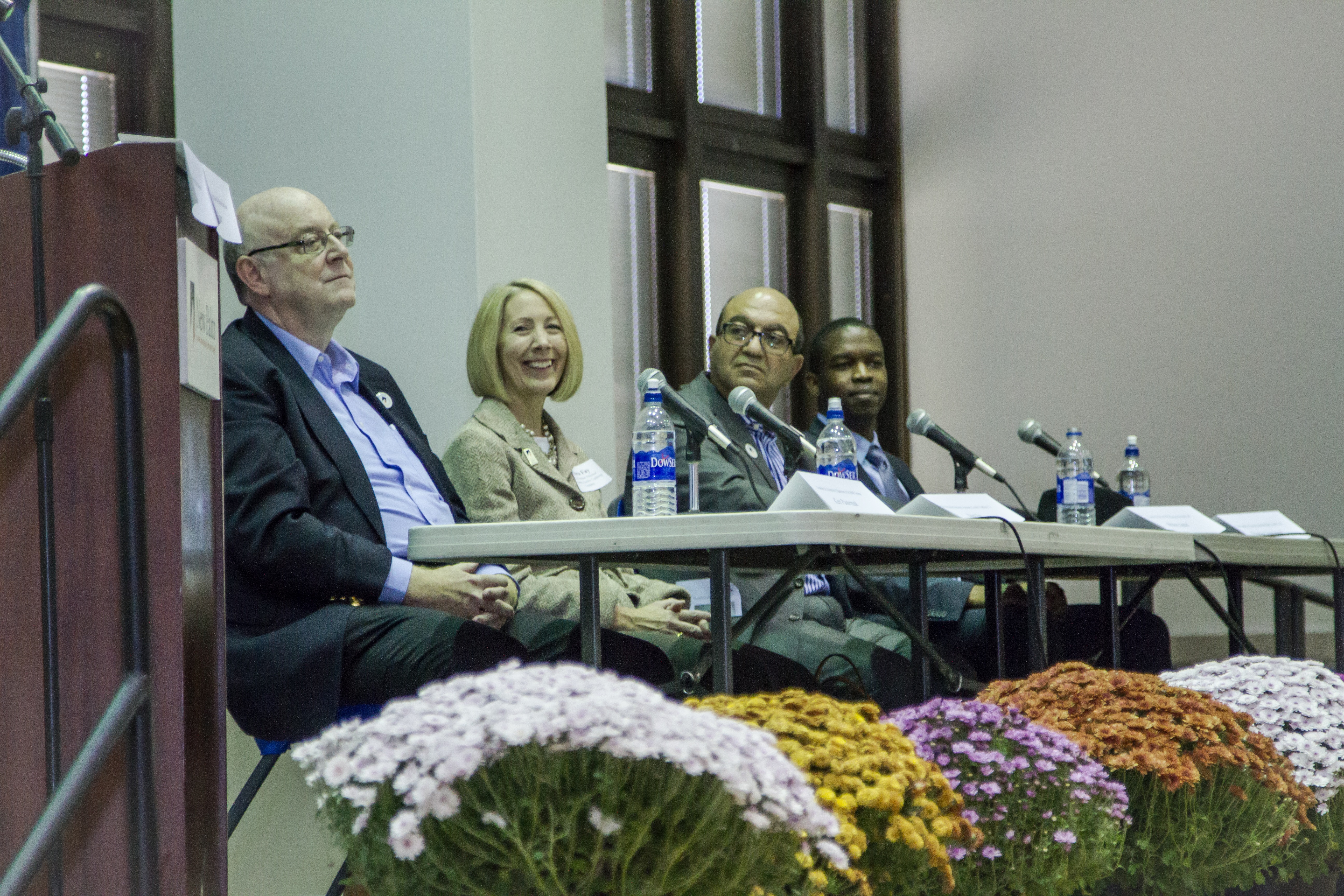 From London to New Paltz, the message was clear. Network, get involved and be relevant.
These were the overwhelming sentiments conveyed at the first Business Leaders of the 21st Century panel discussion held on Monday, Oct.27. The event, hosted by the Office of Development, in collaboration with the Career Resource Center and the Provost's Office, offered the crowd of students, faculty and staff the opportunity to engage in a dialogue with successful SUNY New Paltz alumni.
"We're thrilled to have such distinguished alumni, professionals, and College foundation board members participate," said SUNY New Paltz President Donald P. Christian. "They've traveled from as close as New Paltz and New Jersey to as far away as London."
Comprised of business leaders in varying stages of their careers, the discussion covered both individual career paths and a great deal of advice for students on how to achieve professional growth.
"We have a number of alums who have been very successful in their career," said Kristin Backhaus, interim dean of the School of Business. "They are willing to come back and share their expertise with our students and often serve as mentors or internship supervisors. They are invaluable to us."
The panel was made up of three top-level industry trailblazers, Kenneth Pasternak '77 (Education/Social Studies), Fitzarnaz Drummond '06 (Business/Finance and Management) and Nora Fay '80 (Liberal Arts and Sciences/Anthropology). These successful alumni, along with Mickey Jamal, SUNY New Paltz Foundation board member, took time to speak with students about their career highs and lows and the steps they took along the way.
In spite of vastly different backgrounds and majors, the unified message from the panel to the students defined success as having a combination of skills from passion to networking.. Potential graduates were encouraged to get involved on campus, in their communities and beyond the classroom in order to be remembered.
"Seek every opportunity to become relevant, visible and to raise your profile" said Drummond, vice president at Deutsche in London. "Get out there, and get noticed."
This idea resonated for many of the business majors in the packed Multi-Purpose Room. "Your GPA is just a number," said Rosemary Bair, a third- year business major. "It's time to get more involved."
Student questions ranged from those about personal motivation to concerns about common obstacles faced by entrepreneurs. When asked what they believed the next big thing might be, members of the panel were quick to mention technological advances.
"Thermodynamics," said Fay, vice president of national accounts at Lucifer Lighting Company in Texas, "anything in the environmental field."
Active alumni participation in campus events is a key component to sharing future opportunities with enthusiastic students and recent graduates. By introducing these community leaders to the College and its students, the gap between campus life and a successful career seemed to move toward a favorable close.
"Our alumni are a vital link to the business world. Their involvement in the School of Business provides us with real-time information about what is happening, what is important and what our students will face when they enter the workforce," Backhaus said.