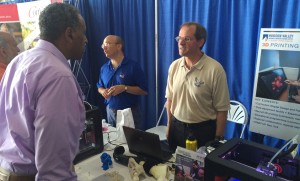 3D printing was on display at the SUNY New Paltz exhibit booth on Sunday, Aug. 24, at the 2014 New York State Fair.
Dan Freedman, dean of the School of Science and Engineering and director of the Hudson Valley Advanced Manufacturing Center, and Paul Kassel, interim dean of the School of Fine and Performing Arts, were on hand on to provide information about the cutting-edge technology to fair-goers.
"People from all walks of life were drawn to the exhibit—engineers, artists, students, families, young children—and each one of them were fascinated, curious, and amazed by the technology and our program," said Kassel. "What's fun is to see their eyes light up as we explain the technology, the alliance between science and art, and the possibilities just down the road."
Since launching the Hudson Valley Advanced Manufacturing Center at SUNY New Paltz in May 2013, the college's effort to fuse learning and manufacturing, science and the arts has continued to gain momentum as a result of additional funding, new staff and equipment, as well as headway made in design and fabrication.  An example of this is the recent design and production of a robohand for a local boy using the 3D technology.
According to Freedman,"SUNY New Paltz's 3D printing display at the State Fair was another example of how we are trying to make this transformational technology known and available to everyone," he said. "The interest at the Fair was very high.  Many people had heard of 3D printers, but only a few had had the chance to see one in action."
About 3D Printing at SUNY New Paltz
3D printing at SUNY New Paltz integrates the College's strengths in engineering, computer science, technology, and the innovation and creativity of the arts. The organizational home of this effort is the Hudson Valley Advanced Manufacturing Center at SUNY New Paltz. Launched in May 2013, the center brings state-of-the-art 3D printing equipment to the region and a curriculum in Digital Design and Fabrication, giving rise to powerful forces—art and technology, creativity and ingenuity. Additional elements of the initiative include: active recruitment of 3D printing enterprises, with access to venture capital funds and potential for participation in the Governor's Start-Up NY tax incentive program; and a network of equipment access and collaborative educational programming at Hudson Valley community colleges and select high schools to expand 3D printing capability in the region. In December 2013, the Mid-Hudson Regional Economic Development Council and Governor Andrew Cuomo awarded the initiative $1M in state economic development funds. And in February 2014, the College partnered with Brooklyn, N.Y. – based MakerBot, the leading manufacturer of desktop 3D printers, to open the nation's first MakerBot Innovation Center at SUNY New Paltz.