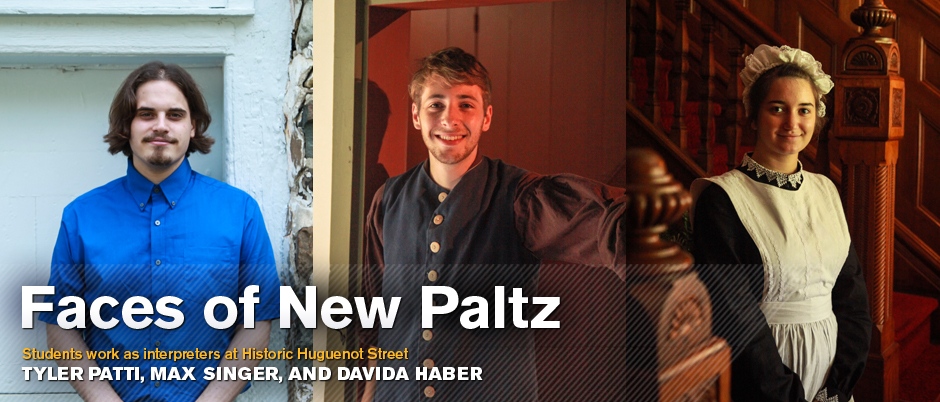 It's no secret that the Village of New Paltz is a history lover's playground. But for some SUNY New Paltz students and alumni, Historic Huguenot Street (HHS) – one of the Hudson Valley's most treasured historic landmarks – offers a wealth of learning opportunities not just for history students, but also those looking to hone their dramatic acting skills.
Among the dozen-or-so current and former SUNY New Paltz students who work at HHS, roughly five of them serve as site interpreters, assuming character roles and wardrobe meant to transport guests to bygone eras.
Founded in 1894, HHS was established by the descendants of the Huguenots, who fled from France in the 1600s to escape religious persecution by the Catholic Church. The refugees first fled to die Pfalz in Germany, and then to the U.S., where they purchased 40,000 acres from the local Esopus tribe along the banks of the Wallkill River – the community that would become what we now know as New Paltz.
Today, HHS is a thriving National Historic Landmark District, with 30 buildings across 10 acres, including seven stone houses dating to the early 1700s. Rather than simply convey information about the historic homes to tour goers, HHS interpreters try to recreate the experience of actually visiting them when they were inhabited by New Paltz's original settlers.
"It's nice to learn about the history of the street and then talk about it with other people," says Tyler Patti '13 (History), who works in the Bevier-Elting House, one of the oldest homes on Huguenot.
Stationed in the Jean Hasbrouck House, set in 1755, Max Singer '15 (History) greets tour goers by introducing himself as a cousin of the family who lives in the house. Donned in full period costume, down to the old Dutch shoes that lack "left foot, right foot" designation, he apologizes for the family's absence – they are still attending church services down the road – but offers to take the guests inside for a tour before the hosts return.
"It's a combination of all the things I'm interested in," says Singer, who minors in theater in addition to his history major. "My main passion is acting. This is a type of performance art that I haven't done before, and I have a feeling I'll find myself doing more historical re-enactments in the future."
Just across the street in the Deyo House, Davida Haber '13 (French, Theater Arts) is living in much more modern times than Singer's character. Playing the role of a servant named Abby in 1908, Haber says she often draws from the lessons she learned as a theater major and linguistics minor in order to achieve historical accuracy. She carries herself in a nervous, timid manner, as a maid probably would during that time period, and tells herself to "look serious" when guests take her picture, because that's the expression people wore in old portraits.
"It's opened my eyes to the history here in New Paltz," says Haber. "I love being in character when people ask questions. It's like a time machine. … It's important to know where you came from."