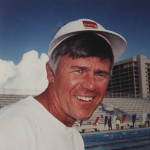 Former SUNY New Paltz head swimming and diving coach Art Stockin '63 passed away peacefully at his home on Monday, July 21, 2014 at the age of 74.
"We lost our coach," New Paltz associate director of athletics and former head swimming and diving coach Brian Williams said. "It's a huge loss to the community and the College, but New Paltz swimming and diving lost its leader. He gave student-athletes within his program the confidence they needed, and he set high expectations that he knew they were capable of achieving. He was a mentor, a role model, a friend and, for most of us, he was a father-like figure in our lives. Something's missing now."
The story of New Paltz Athletics cannot be told without mention of Stockin, whose passion, service to the College, and athletic success greatly enhanced the institution's profile during his 26 years as New Paltz's head coach. Stockin, a four-time State University of New York Athletic Conference (SUNYAC) Coach of the Year, coached the Hawks' men's team to two SUNYAC titles and four Metropolitan Conference championships.
Stockin, a lifelong resident of Ulster County, got a call from then-director of athletics Loren Campbell in the summer of 1966, as New Paltz was looking for a head swimming and diving coach. Campbell enjoyed meeting Stockin so much and believed in his passion and energy that he promptly offered him the job.
Stockin took over a program that was just a few years old, but the Kerhonkson, N.Y. native was up for the challenge. His commitment to teaching the principles of hard work, dedication, and discipline paid off, coaching the program's second SUNYAC champion during his first season on the job. Just four years later, he mentored his first All-American, and by the end of the 1970s, New Paltz became one of the top programs in the region.
The 1978-79 campaign saw the Hawks win their first of four straight Metropolitan Conference titles, and after New Paltz rejoined the SUNYAC, Stockin led the Hawks to SUNYAC titles in 1986 and 1989. The capstone of his storied career occurred in his final years as head coach, mentoring Lou Petto '94 to six national titles from 1992-94.
"There isn't a day that goes by where I don't think of the things the man taught us," Petto said. "He had extremely high expectations of you, and he had a plan to get there. It was up to you to follow the plan, and he expected you to. His legacy is that there is pride to being a New Paltz swimmer, and it carries over whether you weren't a point scorer [at the conference meet] or you were a national champion. Everyone is a member of the family."
During his time presiding over the program, New Paltz produced 72 individual conference titles, 21 conference relay titles, 68 NCAA Division III qualifications, and 10 All-Americans. Stockin was inducted into the New Paltz Athletics Hall of Fame in 1997 and is currently joined by eight of his former student-athletes and one of his former teams, with an additional two individuals—Sue Cooney '91 and Jill (Tournour) Burke '93—being inducted this fall. Stockin also received the American Swimming Coaches Association (ASCA) Award of Excellence for Outstanding Coaching Achievement.
In addition to his coaching duties, Stockin served a 30-year stint as a full-time associate professor on the faculty at New Paltz. During his time as a professor, he received the Alumni Distinguished Teacher Award and the Pride of Ulster County Award.
When asked what kept him at New Paltz for 30 years, Stockin once said: "The beautiful scenery in the region, for one, and the close ties I have maintained with my former athletes. I feel very lucky to have gained the respect and friendship of my past swimmers and the continuing contact I maintain means more to me than any of the awards or victories."
Stockin's most recent visit to campus was in October 2013 to participate in the 50th anniversary celebration of the swimming and diving program.
A 1957 graduate of Kerhonkson High School, Stockin earned his Bachelor of Science in art education from New Paltz in 1963, and he went on to earn his Master of Education in physical education from East Stroudsburg State College.
Stockin is survived by his wife of 40 years, Rette; his children, Kerri, Kim and Kris; his grandchildren, Kayla, Megan and Daisy; and his brothers and sisters, Jeanne Kozlark, Pat Roques, Jeff Stockin, Cheryl Sharrock, and John Stockin.