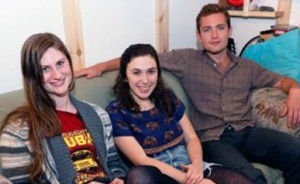 SUNY New Paltz student Reese Werkhoven '15 (Geology), alumna Lara Russo '13 (Women's, Gender & Sexuality Studies), and their roommate Callie Guasti made a surprising discovery after buying an old couch at the New Paltz Salvation Army—$40,000 in cash.
The story, trending worldwide, was first reported by SUNY New Paltz student Hobie Ramin '14 (Journalism) of The Little Rebellion, a student-run publication at the College. The publication reports that the students located the owner, whose name was written on one of the envelopes found inside the couch containing cash, and returned the money.
According to the trio, the owner's husband had given her money each week to store in the sofa before he died of heart problems. She kept it there for years but then was forced to undergo a heart operation. While she was at a rehab facility, her daughter sold the sofa to make way for a bed.
The owner, who is remaining anonymous, gave the students a $1,000 reward.
"We are proud of our students, and not just because of what they accomplish academically, but because of the exemplary people and citizens that they are," said SUNY New Paltz President Donald P. Christian.
To read the full story visit http://thelittlerebellion.com/index.php/2014/05/new-paltz-students-find-40k-in-a-couch/.
MEDIA COVERAGE
Couch Produces More Than Loose Change (NPR

5/16/14

)
Roommates Buy $20 Used Couch, Find $40K in Cash (Time Magazine, 5/15/14)
Roommates find $40,000 buried in couch (CNN,

5/15/14

)
Give them an A+! Students found $40K in couch, return cash to original owner (

Today

Show,

5/15/14

)
Roommates buy old couch at thrift shop, find $40K in cash; money returned to 91-year-old widow (AP,

5/15/14

)
Cash Couch: Students Return $40,000 Found Stuffed in Thrift-Store Sofa (People, 5/15/14)
Friends Find $40,000 Hidden In Secondhand Couch, And Do The Right Thing (The Huffington Post, 5/15/14)
Roommates buy $20 used couch, find $40K in cash (The Washington Post,

5/15/14

)
Roommates Find 40k Thousand Dollars In Cash in Thrift Store Couch, Return Money To Rightful Owner (Good Morning America,

5/15/14

)
SUNY New Paltz student and friends find $40,000 stashed in $20 couch (ABC News,

5/15/14

)
College Students Find More Than $40,000 In Second-Hand Couch (CBS News,

5/15/14

)
Upstate New York Roommates Find $40K in Couch, Return Cash to Owner (NBC News,

5/15/14

)
New York college students find $40,000 in $20 couch from thrift store (Fox News,

5/15/14

)
Pals find $40K in used sofa and track down owner (New York Post,

5/15/14

)
Nice College Kids Return $40,000 Found in Old Couch (New York Magazine,

5/15/14

)
Roommates buy lumpy used couch, find $40K in cash (USA Today, 5/15/14)
New York roommates find $40,000 in sofa and return cash to owner (The Guardian, 5/15/14)
Young trio in New York returns $40,000 woman had stuffed in couch (LA Times, 5/15/14)
New York roommates find $40,000 inside their $20 thrift store couch (New York Daily News, 5/15/14)
SUNY students return $40,000 discovered in Salvation Army sofa (New York Observer,

05/13/14

)