The Eddy, a new lab/initiative committed to interdisciplinary and regional collaboration, celebrated the diversity of campus and community members' native languages with a virtual International Mother Language Day celebration on Friday, February 19, 2021.
A United Nations program created in 1999, International Mother Language Day promotes the "preservation and protection of all languages used by peoples of the world," and emphasizes inclusion, a UN Sustainable Development Goal. In support of the UN's efforts, Eddy members invited all campus and community members interested in participating to read a poem or passage in their native languages.
In her introduction, Sarah Wyman, a member of the Eddy core group, associate professor of English and director of the Faculty Development Center, emphasized how fostering empathy and understanding promotes environmental, social and economic sustainability at home and abroad.
"Forty three percent of the 6,000 existing languages today are endangered. So linguistic preservation is a sustainability effort as well as a way to honor diverse ways of walking through the world and speaking to each other," she said.
Eighteen readers shared a poem or passage in their first languages. Readers included students, community members and faculty, including the following LA&S faculty members: Cesar Barros (Latin American and Caribbean Studies), Paul Fenouillet (Languages, Literatures & Cultures), Marinella Garatti (Languages, Literature & Cultures), Yongli Li (Languages, Literatures & Cultures), Mary McLaughlin (Communication Disorders), Ilgu Ozler (Political Science and International Relations), and Michelle Woods (English).
Represented languages included Creole, Czech, Dutch, French, German, Hebrew and Mandarin Chinese. A number of campus departments and programs co-sponsored the event, including Asian Studies, Center for Student Engagement, Center for International Programs, Creative Writing Program, Deaf Studies, The Eddy, English Department, Faculty Senate Executive Committee, International Student Union, Department of Languages, Literatures & Cultures, Sustainability Faculty Fellows Learning Community, Samuel Dorsky Museum of Art, Office of Veteran and Military Services, Diversity, Equity & Inclusion Faculty Fellows, College of Liberal Arts & Sciences and the Faculty Development Center.
SUNY New Paltz student Melissa Paniagua '21 (Finance, Black Studies) served as host for the event, opening with an invitation to participate in a land acknowledgement. The presentation included closed captioning and though it was not capable of translating the variety of languages represented, it was effective at translating the English portions of the presentation, which made the event more accessible for those with hearing disabilities. A small selection of the presentations have been excerpted below and the entire recorded event, including the Lunar New Year celebration event that followed, is available for viewing.
Fenouillet, a lecturer of languages, literatures & cultures, shared a poem in French by Belgian poet Henri Michaux titled "La nuit remue" (1935). He dedicated the reading to Paulina Uchmanowicz (former English colleague and head of the Creative Writing Program). He and his students created the English translation that appeared onscreen beside the original French passage.
Michelle Woods, associate professor of English, shared a poem in Czech titled "Vlastni zivotopis" by Jaroslav Seifert, a translated portion of which appears below.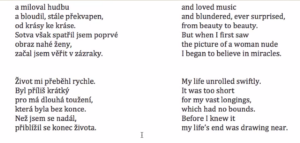 Mary McLaughlin, adjunct faculty for communication disorders, shared a video presentation story about her experience growing up with a hearing disability and how it informed her education and future professional life.
https://ensemble.itec.suny.edu/hapi/v1/contents/permalinks/Hj28XoPs/view
Ilgu Ozler, associate professor of political science, read the poem "On Living" by Zaim Hikmet in Greek. The English translation of Section I appears below.
Section I of "On Living" translated into English:
Living is no laughing matter:
you must live with great seriousness
like a squirrel, for example—
I mean without looking for something beyond and above living,
I mean living must be your whole occupation.
Living is no laughing matter:
you must take it seriously,
so much so and to such a degree
that, for example, your hands tied behind your back,
your back to the wall,
or else in a laboratory
in your white coat and safety glasses,
you can die for people—
even for people whose faces you've never seen,
even though you know living
is the most real, the most beautiful thing.
I mean, you must take living so seriously
that even at seventy, for example, you'll plant olive trees—
and not for your children, either,
but because although you fear death you don't believe it,
because living, I mean, weighs heavier.
About The Eddy
The Eddy began with a think tank event hosted by Andrea Frank, associate professor of art and Michael Asbill, lecturer in the art department, and is modeled on their experiential, collaborative work practice, which emphasizes cooperation over competition, and prioritization of partnership building.
Frank noted of the group's name, "A stream can have a lot of eddies – it doesn't have to be one thing, and ideally it would be many things because value can take many different forms." This echoes the group's values of acceptance, inclusivity, and the integration of the emotional and social aspects of the body into the intellectual work of the campus.
Wyman said the group seeks new ways to come together.
"We are insisting on an intersection between sustainability work and diversity, equity and inclusion platforms. We need to carve out a space on our campus where we can talk about ethical issues, and to give our students a voice and an opportunity to take a leadership role," she said. "What we are trying to do is give a gift and part of the gift is the validation that when you come to us it is because you are creative, and you have ideas to share. These ideas might be STEM ideas or Humanities centered ideas; they may come from anywhere across the academic spectrum. To empower people by telling them that they are artists and can tap into that creativity I think is very important."
While meetings and events are all virtual at this point, The Eddy hopes to have a physical space on campus in the future.
The upcoming Eddy event Embracing Stuck: An Eddy Workshop, scheduled for March 23 from 4:00 – 5:30 p.m. is open to all faculty, staff, and students. Frank explained the workshop will focus on "honing and training our body, wisdom and intuition in a way of knowing and learning that is different." Additional upcoming Eddy-supported events will include some disability studies events that offer a more intentional look at what disabilities mean on our campus.
Anyone interested in more information may contact The Eddy by email.