In moving her introductory and senior seminar courses in Women's, Gender, and Sexuality Studies online, Assistant Professor Jessica Pabón asked herself:  "How do you empower in the midst of a global pandemic that makes most of us feel powerless?"
Pabón's answer:  weekly "Teaching the Pandemic" discussion prompts that encourage students to reflect on contemporary issues, support their mental well-being and put their feminism to work in chaotic times.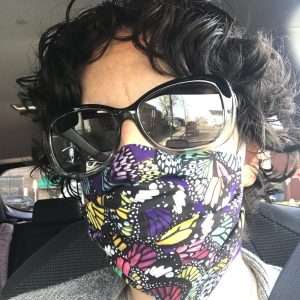 "I want my students to know that even—and perhaps especially—in our new reality, applying a feminist perspective matters to all aspects of our daily lives and our survival," she said.
Acknowledging the increased stresses faced by many students as they attempt to continue their studies away from the safety net of campus, Pabón makes the prompts straightforward, provides optional, supplemental reading assignments and encourages her students to engage in critical thinking "as best they are able to, when they are able to, under the circumstances."
Students in her introductory course have considered key issues of the WGSS curriculum, including gender violence, reproduction, immigration and incarceration, and how they intersect—often perilously—with citizens' and government's responses to COVID-19.
Supplemental readings have included a New York Times op-ed by Tanya Selvaratnam on the surge in reported domestic violence incidents during state mandated stay-at-home orders, in which the author asks, "What do you do if you're confined to the most terrifying place—your home?," a blog post from the Guttmacher Institute on the potential impacts to sexual and reproductive health during the pandemic and a Teen Vogue piece on reactions from disabled people on work-from-home accommodations.
"Applying a feminist perspective matters to all aspects of our daily lives and our survival." – Professor Jessica Pabón
Pabón adopted a different approach for her senior seminar students. "[They] had already been challenged with reading, reflecting and writing about our field's priorities, pedagogies and controversies; the question for them became:  How does the pandemic influence, activate and/or change those priorities, pedagogies and controversies?"
In her inaugural, April 5 "Teaching the Pandemic" prompt, Pabón shared an article from independent feminist scholar Sara Ahmed, in which she describes her writing as a "buffer zone," "anchor," "handle" and "life line" during the pandemic.
Pabón is part of the NY Masked COVID-19 Avengers group, a Hudson Valley-based collective of sewers who make masks for healthcare workers and at-risk populations. In her post, she reflected on her experiences sewing masks, and asked her students to write about what they are learning from and about their survival strategies.
Senior Seminar students shared a range of thoughtful responses. Gianni Marcel wrote about feeling numb to the influx of pandemic-related information and overwhelmed by course assignments. "After many troubling writer's blocks and phases of possible imposter syndrome, I found my anchor," Marcel wrote, writing of her "new found admiration for meditation and Post-It writing." Checking off small tasks provided Marcel the motivation to push forward.
Jaclyn Ageloff wrote that playing Dungeons and Dragons via video chat provided an "escape for me and my friends where there is no coronavirus." She reflected on Ahmed's statement that "there can be creativity in laying low," and described how social distancing allows "time to do the things we never had time for," including hobbies like reading, baking cookies and taking walks with her mom. "It's important now more than ever to be constantly checking in with yourself and asking yourself what you need at that moment," she wrote.
Nic Prestia reflected on how the coping mechanisms she developed during her recovery from alcoholism have served her during the pandemic. "Something I had to do when getting sober, which was a time of crisis for me, was get creative, with literally everything. I had to creatively re-find joy in everything I do. I had to get creative with my entire day, how I would pass the time, how I would think or frame or even relay my thoughts. Everything was rethought for the purpose of finding a more creative and suitable solution for the current scenario."
Prestia wrote that she felt comfortable sharing these deeply personal details because she wanted to encourage her classmates to develop positive lifelines and hobbies, which for her, include producing experimental electronic music, connecting with her spirituality and practicing the unique practice of "flow wanding."
"I had to get creative with my entire day, how I would pass the time, how I would think or frame or even relay my thoughts." – Senior Nic Prestia
"I can pull out that set of skills any time that I am in some sort of crisis or experiencing anxiety," she wrote. "I am grateful for having developed this mechanism. I also hope that maybe by opening up like that, maybe there are people who can relate, or who may be inspired by the story to indulge in some feminism and self-care."
"Feminism and Self-Care" could be an alternate name for Pabón's "Teaching the Pandemic" experiment. Like most feminist professors, Pabón uses her personal life as a classroom teaching tool, but teaching during the pandemic has sharpened her sense of the personal and political.
"In a different way than before, I now have an opportunity to model what it looks like to honor my own humanity and to act upon my feminist priorities and politics in this moment," she said. "Sewing masks to keep vulnerable communities, community volunteers, frontline workers, friends and family safe, or at least to help them feel safer, is more important than publishing a new article. Sitting down with my five-year-old and some paint is more important than reading that new book in my field. Making sure my students have masks, food, safe housing and mental well-being is more important than a due date or word count. All of this is feminist pedagogy in the midst of a pandemic."