Asian Studies faculty, students and alumni gathered during Alumni Weekend to celebrate the program's 50th anniversary and reflect on its storied history.
The October celebration came on the heels of the Oct. 4 New York Conference on Asian Studies (NYCAS), hosted by the Asian Studies Program on the New Paltz campus. The conference brought together U.S. and international scholars from across disciplines and showcased the program's vitality to visitors.
In her introduction to Professor Emeritus Ronald Knapp's Oct. 18 lecture on the Asian Studies Program's history, College of Liberal Arts & Sciences Dean Laura Barrett acknowledged that the Hudson Valley, which doesn't boast a large Asian population, might seem an unlikely place for a thriving Asian Studies Program. "At the NYCAS Conference, several attendees made a point of telling me how rich and robust this program is, more so than Asian Studies programs in much larger research universities," said Barrett.
Excavating the Past
As with most success stories, the Asian Studies program was no overnight sensation, but the product of decades of faculty, student and administrative support and advocacy extending beyond the half century mark.
Knapp, one of the Asian Studies Program's most prominent and recognizable figures, joined the New Paltz Geography faculty in 1968 as a specialist in the geography of Asia. He served as a former Asian Studies coordinator and first overseas director of New Paltz's exchange program at Nanyang University in Singapore.
In his Oct. 18 talk, he shared his attempts to "excavate" the dramatic history of Asian Studies' presence on the New Paltz campus through a variety of historical documents, including articles from the student newspaper The Oracle.
Knapp discovered that the story of Asian Studies predated his arrival at New Paltz. Former College president William Haggerty worked to internationalize the curriculum during his 1944-1966 tenure, with the campus introducing the first Chinese language course in 1961.
Asian Studies enjoyed a heyday in the 1960s.  In 1963, the library's World Study Center, established in 1956, had some 300 periodicals on the non-Western world, and students began majoring in African or Asian Studies in 1962. By 1968, New Paltz had nearly two dozen Asian specialists, including several highly regarded scholars like Irving Barnett (Economics of China and India), Ray Huang (History of China), Hugo Munsterberg (Art History) and Channing Liem (East Asian Political Science).
In 1969, the newly formed Asian Studies Department offered a revised BA in Asian Studies with approximately 60 course offerings on Asia-related topics. All New Paltz students took the required general education course "Introduction to Asia."
"Exhilarating Developments, Tragic Setbacks"
Knapp described the 1970s as a "'period of exhilarating developments, tragic setbacks and hopeful initiatives" for the Asian Studies Department.  Among the highlights were the establishment of the East-West Union in 1973, which became one of the campus' leading student organizations. The East-West Union brought prominent speakers to campus and launched a "Visiting Student Program" in 1974, inviting students from other universities to live on campus and take classes for an Asian Studies concentration.
The campus hosted Chinese scholars in 1979, two of whom received graduate degrees in English from New Paltz. They made national news as the first People's Republic of China nationals to receive advanced degrees in the U.S. since 1949.
In less positive news, the early 1970s marked a period of heightened student activism on campus, with students challenging professors and the curriculum, including general education (GE) distributive requirements. When the campus dropped its former GE requirements, a move favored by most students, Asian Studies lost its "Introduction to Asian Studies" course and enrollments plummeted.
Budget cuts signaled another devastating blow. The College laid off several tenured Asian Studies faculty members before abolishing the Asian Studies major in 1979. Students seeking to major in Asian Studies would be forced to declare a contract major for the next three decades.
Students' fascination with Asian languages and cultures continued, however. Between the Asian Studies major's abolishment in 1979 and reinstatement in 2005, students continued to learn from dedicated teachers and scholars of Asian Studies, participate in student organizations and study abroad.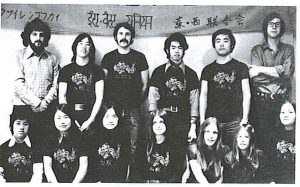 Asian Studies Today
Today, the Asian Studies Program has an enrollment of 26 majors and 23 minors, and more than 10 affiliated faculty members from the College of Liberal Arts & Sciences and School of Fine & Performing Arts.
Curricular offerings include courses in Chinese and Japanese language and culture, as well as a number of study abroad programs in China, Japan, India, Korea and Southeast Asia, offered in partnership with the Center for International Programs.
The Friends of Asian Studies endowment, initially established with a goal of securing $100,000 for student scholarships for experiential learning activities such as study abroad and student-faculty research collaborations, now exceeds $150,000.
The East-West Living and Learning Community allows U.S., Chinese and Japanese students to live together, develop language skills and increase cultural understanding through a variety of activities such as film screenings, guest speakers, performances, off-campus cultural tours, culinary classes and more.
Looking Back
The program maintains strong connections with its valued alumni.  The Asian Studies Program continued its 50th anniversary celebration on Oct. 19, with New Paltz alumni Michael Boccio '83, Jeannie Irvine '78, Richard Hessney '72, David Riggle '73 and Veronica Ruoff '09 joining current Asian Studies senior Jeremy Luna and former faculty member Elliott Feldman (1968-1976) on a panel to share their experiences in the program.
Alumni reminisced about current and former Asian Studies faculty members, study abroad and the value of being immersed in other cultures and languages.
Boccio, who studied abroad at Bejing University in 1980, recalled being witness to a "very different time" in China's history when the now rising superpower first opened its doors to the west.
As an American student, Boccio garnered attention everywhere he went. He engaged in conversations in the dorms and on trains as he toured the country on a travel permit, sometimes using a Rubix cube as a conversation starter. Though Boccio once studied the Chinese language from the comforts of his chair in the New Paltz library, study abroad forced him to engage with native speakers and foster meaningful, intercultural connections.
"My life was instantly turned upside down – everything I knew and was comfortable with," he recalled. "It challenged me, it pushed me. It enabled me to look deep into what ethics and values and beliefs and education I had, and it developed me. I wouldn't trade that experience."
Boccio described his study abroad experience as fostering empathy, a quality that served him well in his two decades as a successful businessman operating in China. His career highlights include founding what became the nation's largest network of private hospitals and setting up the meat and vegetable supply chain for McDonald's franchises in China.
"I could really put myself in other people's shoes, and that, together with learning the language, learning the culture, really was what drove me to a successful career today," he said.
—
To learn more about the Asian Studies Program, visit the program website.