Peter Kaufman, a beloved teacher and colleague, passed away on Nov. 19, 2018, after a brave battle with lung cancer. He was 51.
Kaufman, a professor of sociology, joined the SUNY New Paltz faculty in 1999 and was promoted to professor in 2014. He earned a Ph.D. in Sociology from Stony Brook University, and his diverse teaching interests included education and society, social change and the sociology of sport.
Kaufman, who earned the SUNY Chancellor's Award for Excellence in Teaching in 2011, made a lasting impression on his students. Amanda Ruschak '15 (Communication) credited Kaufman with instilling in her the importance of "doing sociology," or putting the knowledge gained in the classroom to work in effecting social change.
"Whether it was being more mindful in our interactions with others (as I learned in his course 'Social Interaction'), or working to combat the results of institutional inequalities, he set me on a path that allowed me to find responsibility and purpose in my studies," Ruschak said.
Kaufman's recent book Teaching with Compassion (Rowman & Littlefield, 2018), co-authored with Janine Schipper, offered practical strategies for helping educators foster a culture of care and compassion.
He also frequently collaborated with colleagues from other departments to share pedagogical strategies with the campus community. In the podcast "The Best Writing Assignments," recorded for the former Teaching and Learning Center, Kaufman joined English Department faculty Cyrus Mulready, Matt Newcomb and Jackie George in discussing strategies to cultivate students' love of writing and self-expression.
On Oct. 30, 2018, Kaufman reflected on life with a terminal illness during the campus event "On Death and Dying." Diagnosed with Stage IV lung cancer in June of 2017, Kaufman hoped to facilitate a "teachable moment" about dying, a topic that is often avoided in our society.
Kaufman described the opportunity to reflect on his illness, joined by a campus community that he treasured, as an "incredible privilege."
"How lucky am I that I can be here with all of you," Kaufman said. "When I do die, and I don't mean this in an arrogant way, many of you are going to remember this night and you're going to be there to comfort each other and hopefully comfort my friends and my family. That's a tremendous amount of dignity that I get to die with."
In the days after his death, friends and colleagues shared their reflections on Kaufman's life and legacy.
—
A few years ago, I was watching Questionable Authorities play at Bacchus. Peter Kaufman was doing something with the drums—a kind of roll that started off quiet and gradually built in volume and intensity. A crescendo expressed deliberately and with skill. I watched him in a state of suspense, enthralled. He saw me watching him and with an enigmatic smile, held my gaze. I have no idea what he was thinking during that exchange, but for me it was an intense experience of the present moment. I imagine he'd be happy to know that he ushered me into a state of awareness that, even though there are 10,000 ways to access it, I find so elusive.
I wanted to write a haiku for Peter. I felt it should include an autumn image because in Japanese aesthetics, this season suggests loss and impermanence. And I wanted to allude to his drumming, through which I had had my deepest moment of connection with him. Then I remembered a haiku that captures both elements, written in 1690 by Matsuo Basho, who also died at age 51:
nothing intimates
in the voice of the cicada
how soon it will die
Thank you, Peter, for all the silences—and for all the racket.
Mary Stevens
Lecturer
Languages, Literatures & Cultures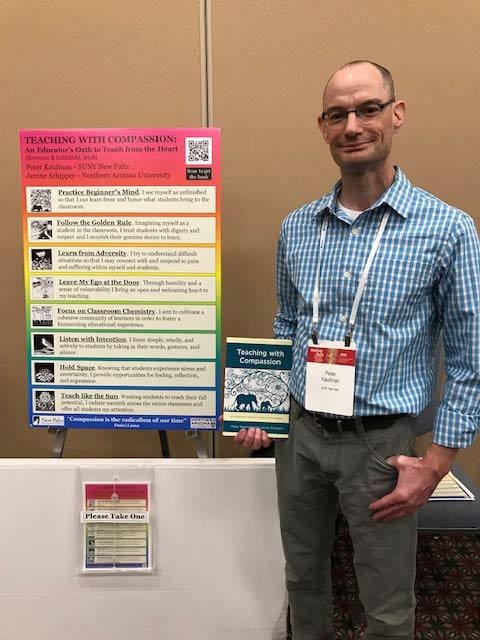 —
Peter Kaufman was my friend, colleague, collaborator, and mentor. In so many ways, Peter has shaped me as a person, teacher, scholar, sociologist, and member of the SUNY New Paltz community. As chair of my search committee, Peter first contacted me in 2005 to invite me to interview for a faculty position in the Sociology Department. From our initial conversations, it was clear we shared a pedagogy that was deeply rooted in a sociological understanding of the world. Sociology wasn't simply what we taught—it informed how we interacted with our students, the learning environments we cultivated, and our understanding of the institutional and structural conditions under which we operated. Peter was the model of a compassionate teacher-scholar. Countless discussions led to our collaborations on our article "Sociology as Pedagogy" and our upcoming chapter "Social Structure and the Individual." Though I was very much his junior colleague during our first project, he treated me as an equal. We debated every theory, every example, every turn of phrase with the sort of give and take that reflects genuine mutual respect. Working together was both serious and delightful, professional and personal. As focused and disciplined as he was, every time he made a pun—intentionally or not—he would chuckle and grin. Our writing sessions were peppered with talk of triathlons, chia seeds, greyhounds, our families, and how New Paltz could have been the inspiration for Shel Silverstein's Where the Sidewalk Ends. Recently, we had frank conversations about his experience with illness, and how much he missed the classroom and talking sociology. When people confront their own mortality, they may start thinking about changing their priorities, career, or lifestyle. But Peter found genuine satisfaction in the life he had cultivated with his family, friends, colleagues, teaching, scholarship, athletic endeavors, and mindfulness, in a community he loved. His kindness and commitment to students, the institution, and all of those who knew him will leave a lasting mark. I will miss him dearly.
Judy Halasz
Associate Professor
Sociology
—
There are no words to express how saddened I am at losing my colleague, bandmate, and friend Peter Kaufman.  Peter marched to his own drummer, because he was his own drummer. In every single way that mattered, Peter was top-shelf. I have been fortunate to have been close with Peter for nearly two decades. Peter and I share many common interests including sports, the outdoors, rock and roll, The Office, writing, society, and, perhaps above all, a humanistic approach to teaching.
Peter was an educator's educator. There's not a single teacher from my post-Ph.D. era who has taught me more about teaching than Peter has. First and foremost, Peter was humble―and he knew that humility benefits the teaching/learning process. He genuinely put all people on the same playing field as one another. And this fact allowed him to reach any and all students. Peter was an advocate of putting students ahead of red tape. And I cannot express how deeply I appreciated this aspect of Peter's approach to teaching.
I was one of those people who refused to admit in my mind that Peter's illness was really terminal. I guess I like to believe that life is at least somewhat fair. And if life is fair, there is no doubt that Peter would still be here today.
On Nov. 6, I had a little bit of a problem related to one of my classes. Two days later, I had a three-hour class slated that was set to be led by one of the students in the class. The topic was education from an evolutionary, big-picture perspective. Unfortunately, my student who was going to lead that class let me know that she had an emergency situation and was not going to be able to participate. I thought to myself, "OK, maybe I'll bring in a guest lecturer."
I texted Peter asking if he would come to my class that Thursday. He quickly responded saying that sounded fine. On Thursday, Nov. 8, right on time, Peter walked into my class of 12 eager honors students. I had not told my students anything special about Peter, except that he was an awesome professor who had a lot to say on the topic of education. Peter came in with a smile, sat down, and got down to business. He had an activity planned. He asked all of us to think of our most salient memory from our K-12 education. This was very provocative for me. My memory was probably the most negative out of anyone's, interestingly!
Anyway, the activity was really well-organized. One of the students volunteered to put notes on the board as we went around describing these memories. Peter provided insightful commentary in a very accessible, humorous, and gentle kind of way. Classic Peter.
Next, Peter asked us to each write down three basic principles that would serve as the foundation of a charter of a school district that we would create if we could. We then shared these charters with one another.
What happened next was amazing, and Peter had anticipated and set the stage for exactly this moment. Peter pointed out the following: Not a single one of us had a memory or a basic principle in our charter that was related to standardized testing, the importance of rote memory, the need for common core, assessment, or anything like that. Our stories were all human stories. And our charters were all humanistic at the core. No exceptions.
Peter then encouraged us to ask ourselves a very simple question, which was this: Why in the world do educational administrators and policymakers across the U.S. fail to emphasize these basic humanistic values regarding education that came so naturally to all of us?
This moment was nothing short of profound. The class literally had an "Aha" moment. I was finding myself thinking about John Lennon's song "Imagine" applied to education in the U.S. Imagine public education that put students first. Not as numbers, but as people. Imagine public education without red tape. Imagine teachers at all levels being encouraged primarily to develop and inspire their students. Imagine.
At the end of the day, for my money, life is largely about generativity—leaving this world somehow better because of your having been in it. Peter was the most generative person I have ever known. So many of us learned so much from him and are better people as a result.
I am so deeply saddened to lose such an amazing friend. And I am truly appreciative that I got to know him over the years. We hiked together. We blogged together. We worked with students together. And, mostly, we made music together.
In my last email exchange with Peter, I said this: "We are 1000% with you, PK. Godspeed."
Glenn Geher
Professor
Psychology
—
The first time I truly got to know Peter was when I sat in on his "Introduction to Sociology" course. I was new to SUNY New Paltz, and I had asked Peter if he'd be willing to let me observe one of his classes. It was a writing intensive section with 20 students in a small classroom on the second floor of the Humanities building. At the risk of being cliche, that class truly changed my perspective on teaching—but it changed my perspective on teaching because it changed my vantage point. Although I was observing the class, Peter included me as a part of the group discussions, and he included himself as well. His classroom looked different, felt different, and sounded different than so many others I'd been in before. I had heard he was a good teacher, but I hadn't expected to feel so inspired by the experience. After that class, we had the first of many conversations on teaching and life over lunch at Main Course. I already miss Peter's generous spirit, his guidance, and his friendship. I will think about him often and miss him always.
Carolyn Corrado
Lecturer
Sociology
—
I deeply appreciated Peter's ability to regularly, but gently, encourage people to be a better version of themselves. I will miss talking with him about teaching, writing, swimming, etc. These conversations helped me to continue to improve. Never taking himself too seriously, Peter easily switched from serious topics to funny and clever reflections on life. A lasting memory will be watching him charmingly mentor medical staff at the hospital about bicycling.  Even under such stressful conditions, Peter shared a favorite Thomas Edison quote: "If we did all the things we are capable of, we would literally astound ourselves."
Maureen Morrow
Professor
Biology
—
I met Peter in his first academic year at SUNY New Paltz, 1998-99, just one year after I joined the faculty. Acting totally in character, I would later learn, he sought me out as someone with whom he'd heard he could talk about pedagogy and especially the nitty-gritty of classroom practices. That limited but important subject soon broadened to more free-ranging topics of mutual interest, usually over lunch at The Bistro or on many a long bike ride together: national politics, the politics and ethics of sports, the politics and goals of higher education, and years of chats steadily developed into a deep mutual respect for each other's academic discipline. For years we kicked around the idea of team-teaching a course in some aspect of sociology and literature, figuring it would someday just happen whenever we figured out the formula. Now, of course, I wish it had. Peter was a truly amazing individual: spiritual without ever being dogmatic, compassionate and kind to everyone, committed to social justice and equality, personally rigorous but also unfailingly generous toward others less committed to their own ideals, and as many students and colleagues know well, deeply committed to education.
Thomas G. Olsen
Associate Professor
English
—
Intelligent, compassionate, a good listener, interested in other people and their ideas, Peter Kaufman was a true leader, his integrity touching all he accomplished and the many lives he enriched.
Pauline Uchmanowicz
Associate Professor
English
—
I had the honor many years ago of working with Peter on a FIG—a Freshman English Group—that combined "Composition II" and "Introduction to Sociology."  I had the opportunity to watch Peter teach.  He was an extraordinarily gifted and dynamic professor who brought out the best in his students, who was both compassionate and caring and intellectually challenging.  He prompted students to have faith in their intellects and creativity, to scrutinize their worlds, become better critical thinkers and writers and become more active citizens. I truly will miss him as a colleague and friend.
Jan Z. Schmidt
Professor
English
—
Peter was to me a very unique person. I first met him in spring 2000 when I joined the Sociology Department as secretary. He was kind and shared his love of greyhounds and hiking with me. My son, Jonathan, and I were fortunate to be with him on one of his many hikes. We even had the pleasure of meeting his beloved dog Maggie. The hike was very invigorating, and it was fun to be with him and the sociology students.
Over the years, I've experienced the many aspects of Peter's personality. He was a passionate teacher and a lover of knowledge. It was contagious when you were around him. What has always stuck with me about him was his humility. His presence in a room was enough to be an encouragement to be the best person you could be.
One thing that stands out to me was said by him during his last lecture here on death and dying. He said, "My main concern is for others that will suffer my loss. I will not be around to control it or to comfort them." Even in his death, he was considering others and used his experience as a teaching moment.
Peter will be missed in many ways by me but mostly every work day as it sinks in that he won't be coming to the office anymore.
Rest in peace, my friend.
Margaret Betaudier
Secretary
Sociology
—
The day after Kaufman's death, Sunita Bose, associate professor and chair of sociology, emailed the department's students to share the news of his passing. The following is an excerpt from Bose's email, printed with her permission:
As members of this department, we knew him as a close friend with a dry sense of humor, an incorrigible athlete (he ran a triathlon after coming out of an extended hospital stay this summer), a musician, a mentor, a scholar  – the list goes on and on. For those of you who had the privilege of being in a classroom with him know what an incredible teacher and mentor he was. Peter's identity was so closely connected with teaching through a sociological lens that everything, even his illness, became a teaching and learning moment. From his public sociology blogs to Facebook posts to microburst essays on Twitter, he provided us with a deeply personal yet sociological perspective on death and dying.
Peter's commitment to you, our students, was absolute. Less than two weeks before he died, he was still holding office hours and seeing students. It has been my sad duty to communicate with his advisees in the last week as Peter was hospitalized. At the moment, we are all trying to come to terms with Peter's loss. We want to be here for our students and Peter's family and we will do the best we can to come together as a community.
Sunita Bose
Associate Professor
Sociology