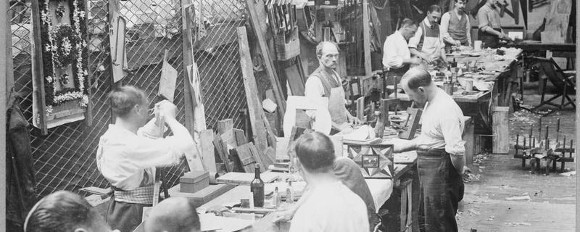 For double majors, capstone projects present an ideal opportunity to explore topics with an interdisciplinary approach. History and Sociology double major Emma Lagle brought her interest in gender studies, immigrant communities and social justice to the History Department's capstone course, a Senior Seminar on World War I.
Associate Professor Andrew Evans provided historical context via readings and discussions of primary and secondary sources, and students conducted in-depth research in the library. "Coming into my seminar course, I quickly realized how well my history courses have taught me to read historical sources analytically and to turn those sources into qualitative data," Lagle noted. "You have to recognize trends throughout primary sources [like the London Times and Daily Mirror] and theorize about their connections to the larger social and cultural world structures."
Evans encouraged his students to look for the odd and lesser known stories of World War I. "For me, the course is about teaching students to be scholars, and how to do research at a more advanced level," said Evans. He encouraged Lagle to develop her understanding of how traditional gender norms in Britain influenced national policy towards German "alien-enemy" civilians residing in Britain in 1914.
Through her research, Lagle discovered that Britain's policies of internment and repatriation (deportation) affected German men and women differently. British internment policy focused on German-born males, who enjoyed freedom of movement and had access to British businesses. Male German civilians of military age lost their ability to work freely in British businesses, were separated from their families and forced into internment camps.
German women faced the prospect of supporting their families without male breadwinners, or were targeted for deportation, depending on the degree to which they conformed to Victorian gender roles. Single German-born women were frequently deported, because their failure to conform to societal standards made them the objects of suspicion.  "The British believed a husband controlled his wife's sexuality and that unmarried women would use their femininity to quickly marry an English husband with hopes of avoiding repatriation," said Lagle.
"Human history is a never-ending story, and no matter what time period one studies, the parallels between past human action and present human circumstances are striking."
At the end of her essay, Lagle draws a parallel between Britain's policies toward German civilians during World War I and the U.S.'s current deportation policies, a topic she has explored in her second major. "The treatment of civilian immigrants during a time of international conflict correlated to my studies in Sociology concerning the United States' strict immigration policy resulting from our War on Terror," Lagle said.
Lagle's paper has been accepted to the National Conference on Undergraduate Research.  Evans believes the process of conducting original research and sharing it with her peers will better prepare Lagle as she sets out to become a history teacher at the high school or college level.  "You have to have produced history, rather than just consumed it. That's how you learn how history as a discipline really works," he said.
Lagle, who graduates this May, described a sophomore U.S. History course taught by adjunct Professor John Palencsar as a turning point in her undergraduate career.
"I'd always enjoyed history classes, but when a teacher is passionate and loves what they teach, that passion becomes infectious," said Lagle. "Every course I've taken for my history major has had this same effect. The faculty at New Paltz truly loves history, and despite the heavy amount of reading and writing it takes to be a history major, I began to appreciate that human history is a never-ending story, and no matter what time period one studies, the parallels between past human action and present human circumstances are striking."
-Despina Williams