Mariah Brown and Danielle Plotkin had not met before enrolling in Kimberly Ruth's Entrepreneurial Journalism course. But their passion for West African culture and fashion made them perfect partners in developing a project they deemed "a fashionable global exchange of ideas and style."
Developed by Assistant Professor Lisa Phillips, the Entrepreneurial Journalism course provides Journalism majors with alternatives to traditional newsroom jobs in a field that has undergone a radical transformation in the Internet age.  The first half of the course prepares students for freelancing careers, and the second half allows them to explore the model of journalist as entrepreneur.
"There are so many outlets; you don't have to just be a hard news reporter. Journalism is a desirable degree," said Ruth, a New Paltz Journalism alum who taught the course during Phillips' fall sabbatical.
Brown and Plotkin researched successful journalism start-ups and developed a concept for a website they named, "Afriential."  Afriential both acknowledges West African influences in popular U.S. clothing trends, such as the use of bold, colorful Ankara prints, and seeks to compensate West African designers for their designs, which Brown and Plotkin believe have been exploited by U.S. designers and clothing manufacturers.
"Shopping in mass-fashion stores such as Forever 21 and H&M, it is apparent that traditional African prints are employed in an array of clothing pieces, yet no one is giving African villages credit," noted Plotkin.
Afriential would serve as a launching pad for West African designers through manufacturing contracts with U.S. clothing boutiques. The boutiques would manufacture clothing based on West African designers' sketches, and split the profits 50-50.
"With the manufacturing of West African designs in the U.S. and the promotion of the designers and their work, there is acknowledgement of the culture and traditions these designers translate into the clothes," said Brown. "The relationship we are fostering, one of education and equality, displays a level of empathy about the politics behind fashion economy in the U.S."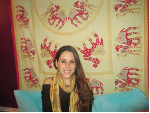 On the website, a Ghana-based blogger would correspond from various lifestyle and fashion events, and West African designers would be invited to comment on their lines. Brown and Plotkin designed the website's educational component to make readers and consumers more conscious of their fashion choices.
"I think in America, a country of such utter convenience and excess, we fail to think about where our clothing is coming from," noted Plotkin. "Besides knowing where a garment was manufactured (which I deem highly important from an ethical standpoint), we must ask ourselves, "Hmm, this is a cool print, but where was it born?"
Afriential's global scope reflects the worldliness of its creators. Brown, a Black Studies minor, is working on her own YouTube channel featuring interviews, poetry and feature stories relating to black identity. She will graduate in May 2015, and hopes to create her own online publication featuring narratives of people descending from the African diaspora.
Plotkin, an Asian Studies minor, studied African history and fashion at New Paltz and interned abroad in Rajasthan, India, where she developed a keen interest in fair-trade fashion.  She graduates this May, and hopes to pursue a career in the fashion industry. She will take with her Afriential's mission to promote fairness in fashion.
Plotkin believes that non-profit and for-profit companies must keep ethics in mind.  "I would love to work for a company similar to non-profit Afriential, or even a vegan clothing company to support humane fashion with a heart and soul."
 -Despina Williams