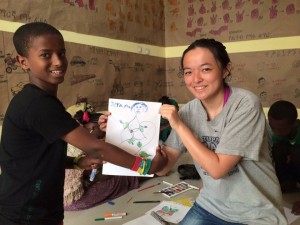 "My trip to Ethiopia was one of the most eye opening experiences I have ever had. I was able to see and experience a different culture that many people don't get to see. Working with the deaf children and leading art activities helped me improve my sign language ability and helped me to adapt to new situations, such as finding a new way to communicate to people who don't speak or sign the same way. One of the fondest memories I have is when some of the kids gave me their art work to keep. Every time one of the kids or young adults was done painting, the smile they had while handing their work to me was priceless. They seemed really happy with what they did and more confident about their work and themselves. Another big highlight of the trip was seeing the remains of Lucy, who was a part of human evolution. I am an anthropology major, so seeing the remains was cool because I was able to connect the experience to what I was learning in class. Overall, this trip challenged me mentally, emotionally and physically. I feel more humble and I love Ethiopia even more. I would definitely go back." -DeYan McCarthy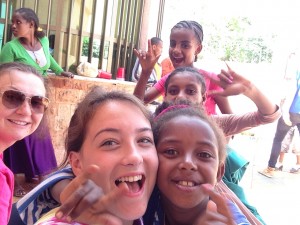 "Going to Ethiopia was an amazing life changing trip I'll never forget. We got to see and experience so much of Ethiopia and its culture in such short amount of time. From the expected all day bus rides through the countryside to the unexpected trip to the Great Pyramids and Ethiopia vs. Kenya soccer game we saw how different things are. I came to admire the way that they live as well as appreciate what I have. Getting the opportunity to work with and get to know the amazing people in the Deaf Community in Bahir Dar was by far the best part and influenced me to focus my career goals in that direction. I am so grateful I got the opportunity to go and hopefully one day I'll be able to go to back to Ethiopia and travel some more." -Kathleen Capulli
"Nearing the end of our first week in Ethiopia we had one of biggest cultural experiences: a night of traditional dancing. This night in particular was special because we were celebrating the birthday of our program coordinator from Visions, Greg. From the moment we arrived it was like there was a spotlight on our group; Greg was sung to and given a cake and there was lots of celebrating
before we even got inside. Once inside it was like a full immersion in Ethiopian culture. The structure looked like a bigger version of the stick houses we had passed in the countryside, the music from the live band engulfed us right away, and everyone working was in traditional clothing. The show was a combination of sitting and watching performances and required audience participation. There was a part in every song where the dancers would come off the stage to make people dance with them; and during the songs when the dancers were backstage, people would just get up on their own and start dancing. This was one of my favorite nights because going dancing allowed us to have a full cultural experience without a language barrier or worries that we were doing something wrong. We just blended in." -Maria Gillin
"Summarizing our trip to Bahir Dar and Addis Ababa, Ethiopia is quite a difficult task. To think in just 14 days we began and completed our journey is amazing. We accomplished so much in such a short time. Before beginning I was ecstatic, yet terrified, unaware of exactly what I would encounter. My family had the same thoughts as we were the first group traveling on this exact study abroad trip. As it turns out, the trip was safe and a wonderful life experience for which I am grateful to have. The journey began with an
incredibly long plane flight. We then took an unexpected trip in Egypt to see the pyramids which was purely breathtaking. From there we took a short flight into Addis Ababa. We were all so happy to have arrived. From there we went to Bahir Dar. The 12-hour bus ride through the mountains was both draining and beautiful. Looking through the window provided so much cultural awareness for what was ahead. We saw the people living their daily lives in a way I personally never witnessed before. It really forces you to realize how fortunate we are. Once we began working with the deaf children and adults from the center and the schools there was an immense feeling of security. I had no fears. I knew the long travel and overcoming my fears was all worth it. Everyone was so appreciative and so happy to have us there. Dealing with culture shock and the exposure to 4 languages at once resulted in exhausting, yet rewarding days. We taught lessons, we played numerous games, we experienced a professional soccer game, we visited historical sites, we went to cultural dancing and so much more. There was a nice balance of work and fun throughout the entire trip. This study abroad was a unique experience that no words can do appropriate justice." -Kalie Hagen
"The opportunity I had to work with the Deaf community in Ethiopia was amazing. Beyond learning Ethiopian Sign Language, seeing Ethiopian history and artifacts and learning the cultures of both the hearing and Deaf population in Ethiopia, I learned a lot about myself. I'm so grateful for all the friends, both SUNY students and Ethiopians, I made while abroad and all that I learned from them. This trip was truly an inspiration and gave me memories and lessons I'll remember for a lifetime." -Cathryn Brown
"Having this kind of opportunity is a once-in-a-lifetime experience for most people. It's not so much about bettering oneself as it is letting yourself open up and allowing a culture much different than your own to influence you. It's about loving other people, creating new friendships, and experiencing life-changing events. That's exactly what has happened on this trip to Ethiopia. I never, in a million years, could imagine seeing myself in Africa let alone making as many friends as I have. Between the other girls who were a part of this
trip and the amazing Deaf community we met, it's as if we've become one big family. Together, we created an environment of equality and trust, both of which seem to be so difficult to have in the United States. That's why this adventure is so rewarding; you simply cannot find this genuine experience back home." -Alexa Venezia
"I absolutely enjoyed my study abroad experience in Ethiopia. It was beautiful to be able to interact with the Ethiopian Deaf community. They embraced us with open arms. Even though there was a language barrier, the children and even the adults wanted our companionship and advice. The teachers also wanted our help to make the center more successful. Not only did I bond with
those I was helping, I formed a bond with the group of New Paltz girls I came with. This trip shaped everyone involved into a family. I am so anxious to be able to see how the center will grow." -Jada Quinlan
Study Abroad Ethiopia Presentation October 20, 2015
Students who traveled to Ethiopia this past June on the Deaf Education and Empowerment service learning trip will be sharing their experiences at a study abroad presentation on October 20, 2015 at 6:30pm in Humanities Bldg. Room 201. All are welcome to come and hear about their experiences, and learn about the next trip coming up in June 2016.
The Deaf Education and Empowerment study abroad service learning trip is a collaboration between SUNY New Paltz Center for International Programs and Visions Global Empowerment, an organization that seeks to create positive change for youth affected by poverty, conflict, and disability through educational and empowerment initiatives. For more information about Visions, visit their Facebook page:
https://www.facebook.com/VisionsGlobalEmpowerment
Rebecca Swenson, coordinator of the Deaf Studies minor and the study abroad course instructor, and Caitlin Paul, Study Abroad Adviser, Center for International Programs, will also be at the presentation to provide information and answer questions.