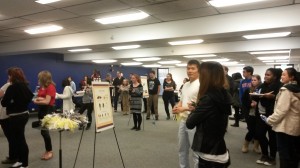 The Asian Studies Program hosted a Mid-Autumn festival on Monday, Oct. 20, from 4-6 p.m. in the Student Union Building Room 100.
The Korea-themed event featured games, food, music and an introduction to how Koreans celebrate the holiday. Attendees learned more about the Asian Studies program, and a variety of Asia-related clubs participated in the festival.
Asian Studies Program Director Jonathan Schwartz said 100 people attended the event, including students, faculty and deans.