Twenty-eight SUNY New Paltz students with a passion for creative writing participated in a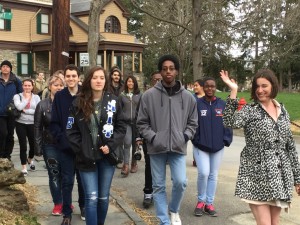 tour of Historic Huguenot Street (HHS), the National Historic Landmark District less than one mile from campus.
The tour was organized by Creative Writing Program Director Jan Schmidt and Professor Sarah Wyman, in hopes of helping their writing students feel connected to the local history and architecture preserved at HHS.
"We have an active community of student writers on campus who work with each other, support each other in and out of classes and are committed to honing their craft," Schmidt said. "The tour of Historic Huguenot Street, workshop and reading is part of our larger effort to inspire our students' writing and involve them in the wider world of the New Paltz community."
"My favorite Creative Writing events are always the student and faculty readings, where writers share their new work," Wyman added. "It was a delight to take our show on the road this spring, and present our micro-fictions, poems and stories fresh from the Historic Huguenot Street tour."
Students had the opportunity to spend time surrounded by stone houses and accompanying structures dating as far back as the late 17th century, when Huguenots from France and southern Belgium fleeing religious persecution first arrived at the banks of the Wallkill River, in what is now New Paltz.
The tour was followed by a writing workshop and "Read-A-Loud" at which students, faculty and staff shared their poetry and prose in the 1799 Lefevre House.
A number of students expressed feeling moved and inspired by the immersive foray into village history.
"As I've grown older I've realized how much history is embedded in the Hudson Valley, especially in New Paltz," said Jeffrey Seitz '15 (English – Creative Writing). "Gaining a better comprehension of that history has fed directly into my own creativity."
"It was like entering into another world," said Carina Kohn '17 (Psychology). "When you see that the things you know now were once very different, you can choose to try to enter that world and write about that, or to notice the ways in which the present and the past are connected."
"To be in the places where founders of our little part of the state actually lived was a humbling experience," said Tsahai Wright '16 (English – Creative Writing). "As a writer, engaging in these types of activities gets the creative juices flowing."
HHS is a frequent collaborator with the College for tours, arts events and a summer Archaeological Field School.
"It is important to us that the students of SUNY New Paltz see HHS not as a dusty old museum, but as a place where they can come to learn, grow and be creative," said Kara Gaffken, HHS director of public programming. "Over and over again, the students from the College have taught and inspired us just as much as we hope to teach and inspire them. It is a fabulous relationship that we hope will continue for years to come."
For more information about Historic Huguenot Street, please visit them online.