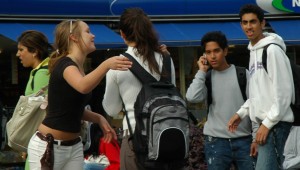 The Department of Communication Disorders is offering a 10-week spring semester clinic for 7th – 11th graders with Aspergers or high-functioning autism to improve verbal and non-verbal communication skills in a variety of social interactions.
Therapy will be conducted in a group setting by undergraduate and graduate students in the Communication Disorders program, supervised by Wendy Bower, M.S. CCC-SLP—a New York State licensed and certified speech language pathologist and full-time faculty member. Large and small group interventions will be held with a maximum of 8-9 students in the large group.
When: Thursdays from 4:30-6:00pm beginning February 6, 2014. No clinic on March 20 or April 17.
Where: SUNY New Paltz Speech-Language and Hearing Center, in the Humanities Building on campus
Fee: $100 for the 10-week session; no charge for SUNY NP faculty/staff families
For more information or to sign up for the group, please contact Sandy DiStasi, the secretary in the Communication Disorders Department office at 257-3600, or e-mail Professor Bower at bowerw@newpaltz.edu.