The New Paltz chapter of the National Student Speech Language and Hearing Association (NSSLHA) has been actively raising awareness and funds for the Usher Syndrome Coalition this semester. After learning about Usher syndrome in an Audiology course, NSSLHA chapter co-presidents Catherine Schembri and Alexandra Lavrentieva encouraged chapter members to sponsor Usher syndrome as their semester project. Catherine writes:
"Usher syndrome is the most common condition that affects both hearing and vision. Early diagnosis is critical for children with Usher syndrome. While there is no definitive cure for Usher syndrome, but there are a LOT of treatments. Usher syndrome is inherited, which means that it is passed from parents to their children through genes. There are 3 types of Usher Syndrome: Type 1, Type 2, and Type 3. Approximately 3 to 6 percent of all children who are deaf and another 3 to 6 percent of children who are hard-of-hearing have Usher syndrome. In developed countries such as the United States, about four babies in every 100,000 births have Usher syndrome. The Usher Syndrome Coalition's mission is to raise awareness and accelerate research for the most common cause of combined deafness and blindness. The Coalition also provides information and support to individuals and families affected by Usher syndrome. In short, the Usher Syndrome Coalition strives to be the most comprehensive resource for the Usher syndrome community. The biggest way people can participate is to explore the Usher Syndrome Coalition's website and raise awareness. Many people are unaware of this syndrome and its effects. If you would like to contribute, the NSSLHA club is selling the Usher Syndrome Coalition's logos for $1, which will be hung in the window of the SUB. NSSLHA will also be fundraising in town at places such as Shop Rite and McGillicuddy's. And be sure to visit the Usher Syndrome Coalition website at http://www.usher-syndrome.org/."
Eat at McGillicuddy's December 11, 2014
You can help NSSLHA this Wednesday by having a meal at McGillicuddy's on Main Street in New Paltz. Print this coupon and present it when ordering and McGillicuddy's will donate 10% of the tab to the Usher Syndrome Coalition.
Or, pick up a coupon at the Communication Disorders Dept. office on campus in the Humanities Building, Room 14A (HUM14A). You can also help by purchasing an Usher Syndrome Coalition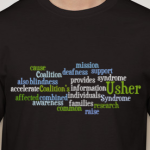 logo for $1, or a t-shirt!
NSSLHA will host a guest speaker from the Usher Syndrome Coalition, and celebrate it's December graduates at the annual banquet, taking place on December 10th at 6pm in the College Terrace. The final event of the semester will be a question and answer session with a panel of New Paltz Communication Disorders faculty and graduate students.  Contact Catherine Schembri at N02560757@hawkmail.newpaltz.edu for more information.